Learn About Hose From Our Blog, Videos, And Swagelok Hose Catalog
by Jeff Hopkins, on 11/12/14 8:00 AM
With Swagelok hose, the only guesswork is in our "When Will It Burst?" contest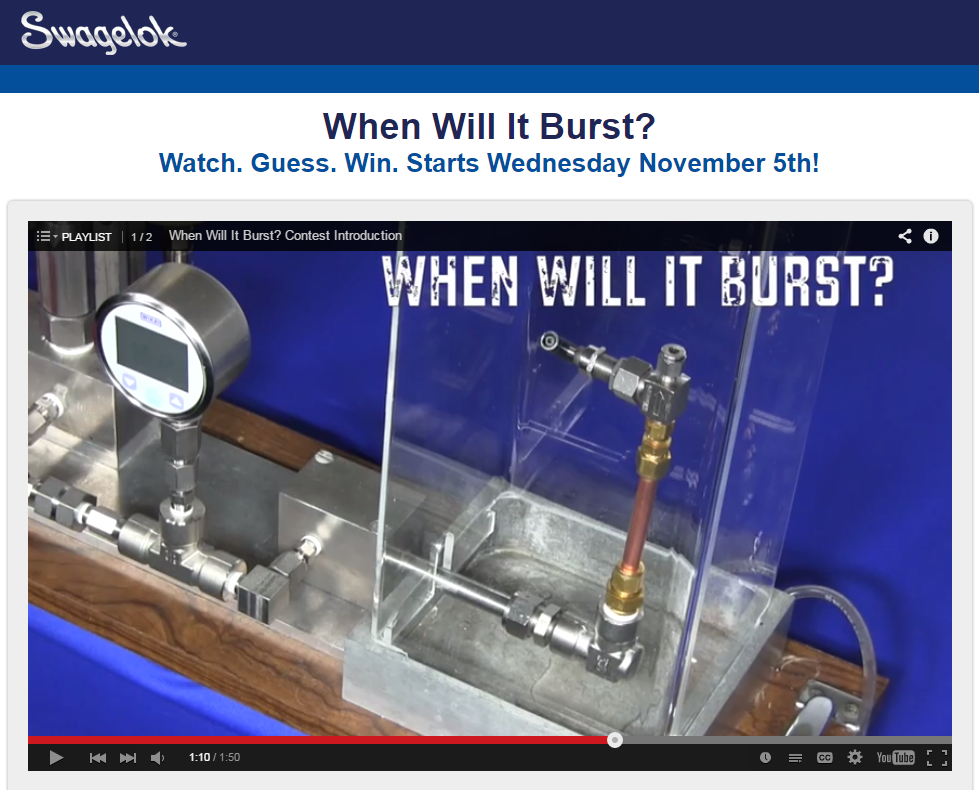 If you haven't weighed in with a guess for our latest "When Will It Burst?" video, you have only until Friday, Nov. 14, to watch and make a prediction. This time around, we are bursting a length of PB Series rubber hose, one of 20 different series of hose in our hose catalog.
We blog about hose with some regularity, because it's a very versatile product. There are even jobs where hose can be more appropriate than tubing. When you need tubing to change direction, you have to bend it or put an adapter elbow on it. That can affect flow rates, increase pressure drop and add to the overall cost.
The right hose
To make sure you are choosing the right hose for the job, remember the acronym S.T.A.M.P.E.D. The letters stand for the Size, Temperature, Application, Material, Pressure, End connection, and Delivery. Once you've determined those details, selection becomes much simpler.
If you are looking for flexibility, our PTFE core hose ties other hoses into knots with our unique Coreflex fiber braid technology.
A hose has to do a lot more than deliver a fluid from one place to another. It also has to stay cool, be flexible and stand up to whatever fluid is flowing through it. Swagelok hose for dielectric media meets these challenges.
We also hold seminars from time to time about the proper selection and use of hose. Some of the most interesting conversations come during the Question-and-Answer sessions at the end.
Local assembly
One of the great things about Swagelok hose is that we can build your order right here in Northern California. We have a dedicated team of full-time technicians certified by Swagelok manufacturing engineers. To pass, they have to produce three samples of every kind of hose we build, and each one is put through destructive testing.
Which brings us right back to "When Will It Burst?". All you have to do is guess how much pressure it took to burst the hose. Remember, if there's a tie, the prize goes to whoever made their entry first.