One Last Look At Our "Greatest Hits" From 2014
by Jeff Hopkins, on 1/28/15 8:30 AM
As we move full-speed into 2015, here are some highlights from last year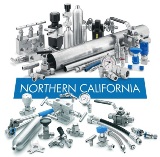 By now most of us have broken our New Year's resolutions, have worked through any backlog that awaited us at work on Jan. 2, and are diving into the work of the new year. As we return to full speed, let's give one last salute to some of the most popular 2014 blog posts from Swagelok Northern California.
It was a year when we got into video in a major way with our series, "When Will It Burst?" We had a blast setting up various combinations of tubing and hose and seeing how much pressure they could handle before they burst. Along the way, we were able to demonstrate that Swagelok® tube fittings, when properly installed, will hold up without leaking even as the tubing or hose ruptures.
The video series was part of a recurring theme in 2014: How to get the most out of Swagelok products and services. Topics included Swagelok University, Swagelok Energy Management Services, and our tube bending training.
Personal touch
We also introduced a few of the people who make Swagelok Northern California what it is. That includes our president, Rod Fallow, our Will Call team of Matt Kearns and Joe Fermandez in Santa Clara and Peter Fraser in Fremont, and steam systems engineer Casey Rivera. For a brief look at some of the other folks who work here, check out our entry in one of the big trends and most successful fundraisers of the year, the Ice Bucket Challenge.
Key data
We put a lot of serious, valuable information within easy reach in 2014 too. Swagelok's Tube Fitter's Manual, a classic for more than half a century, made its online debut. Thanks to our eDTR™ software, the freshest versions of Swagelok's parts catalogs are always available on your desktop computer. We've made it available for the iPad too as a mobile application.
It's tempting to link to every single post from 2014, because each one contains information that helps you better understand Swagelok products and services, and the team here at Swagelok Northern California. But the above samples highlight a great year for our blog. Now we're hard at work trying to top that in 2015.
Additional Resources