Back To Basics: Swagelok Seminars on Tube Fittings and Tube Bending
by Jeff Hopkins, on 2/4/15 8:30 AM
Newbies and veterans both benefit from our classes on how to do the jobs right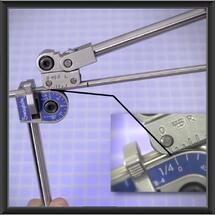 Join us next week for our Swagelok® Tube Fitting Safety and Tube Bending seminars
get more info »
Tubing and fittings form the heart of a fluid system. If they aren't handled and installed correctly, the system will cause headaches for the people who have to work with it, and it will cost the company time and money.
Next week we have a pair of two-hour seminars that cover the key elements of properly installing tube fittings and bending tubing. On Wednesday, Feb. 11, we'll present our Swagelok Tube Fitting Safety Seminar. The next day we'll have our Swagelok Tube Bending Seminar. Both will be presented at our Fremont location from noon to 2 p.m.
A good fit
Notice that the class title includes the word "Safety." Leaks can be a real safety hazard, especially in systems that use hot or caustic fluids. Even a puddle of water on the floor can cause someone to slip and fall. When Swagelok fittings are installed correctly, they won't leak.
But many people learn on the job, and sometimes pick up bad habits from others. They may learn to tighten fittings by "feel," which often leads to under-tightening and leaks. Our class will identify this and other common installation errors.
The class also will cover:
• Evaluation of tube fitting design and function.
• Identification of good tube system fabrication procedures.
• The importance of proper tube selection, care and handling.
• A comparison of a tube system and a pipe system, and their strengths and weaknesses.
• Safe plumbing practices.
• Proper application of thread sealants and lubricants.

Our class is designed for anyone responsible for designing, installing and maintaining leak-free tubing systems: engineers, draftsmen, fabricators, contractors, quality control personnel and safety engineers.
Graduates of the class will take home a portfolio of useful reference materials and a certificate of completion.
Seeing past the bend
Our two-hour Tube Bending Seminar teaches the basics of tube bending and a lot more.
You'll learn the math needed to cut tubing to the proper length. Remember, good tubing isn't cheap. Some companies end up throwing out thousands of dollars of scrap tubing each year because it wasn't cut to the proper length before bending.
Good handling practices are important too, because tubing performance suffers with every ding, dent and scratch. We'll explain how to care for your supplies.
We also teach some time-saving fabrication techniques. Because it's a hands-on seminar, you'll get a chance to try them out. Past participants have singled this out as one of the best parts of the training.
Volume discount
Our seminars cost only $149 per person, and we'll knock that down to $129 apiece if you sign up for both. Not only that, but we'll serve you lunch. So register online now.
Additional Resources