Swagelok Northern California Announces Future Drone Delivery System
by Jeff Hopkins, on 4/1/15 8:00 AM
We are excited about SNC Drones — a future delivery system from Swagelok Northern California designed to safely get packages into customers' hands in 24 hours or less using large unmanned honey bees.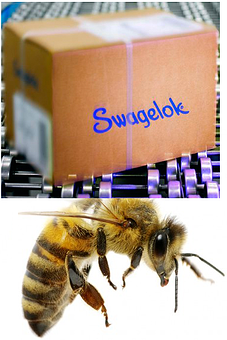 Frequently Asked Questions
Q: Is this science fiction or is this real?
A: It looks like science fiction, but it's unreal. One day, seeing SNC drones will be as normal as seeing delivery trucks on the road.
Q: When will I be able to choose SNC Drone as a delivery option?
A: We will deploy when we have the regulatory support and the number of trained drones needed to realize our vision. We're excited about this delivery system and one day using it to deliver packages to customers around Northern California in 24 hours or less (our current drones have a range of 360 miles in 24 hours due to their average flight speed of 15 miles per hour).
Q: How are you going to ensure safety?
A: Safety is our top priority, and our drones, like all drones, will be stinger free.
Q: Where are you training and testing?
A: We have SNC Drone apiaries in Fremont and Fresno, and we are testing in multiple climates throughout Northern California and northwestern Nevada.
April Fools'!
Okay, obviously we don't have drones in training, but we do have a 99% Ship to Promise Track Record.
Our vision is to be our customer's favorite story. Please click here and let us know how we are doing.
(No honey bees were harmed in the writing of this article)
Additional Resources (No Foolin' Here)