Steam Systems Best Practice: Flash Steam Recovery, Part 1
by Jeff Hopkins, on 6/17/15 7:30 AM
Vent condensers save steam - and money - on modulating applications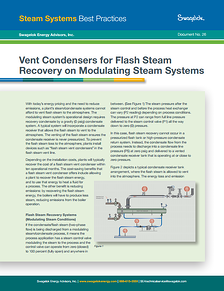 In our last Steam Systems Best Practice blog, we discussed how anytime flash steam is venting to the atmosphere, money is escaping right along with it. It's not much different than turning up the furnace and opening a window. Even if a company is willing to waste resources in this way, tighter emissions regulations still add pressure to fix the problem.
In a modulating steam system, a control valve modulates steam flow to the process. The steam control valve always maintains a steam pressure to the process above the pressure in the condensate recovery system. Thus, the design requires recovery of condensate by a gravity system (0 psig). The venting of the flash steam ensures that the condensate receiver is never pressurized. To prevent the flash steam loss to the atmosphere, plants install devices such as "flash steam vent condensers" in the flash steam vent line.
It's an added cost, of course, but it results in even greater added savings as the boilers aren't using energy to heat replacement fluid. For most plants the payback time is only about 10 months.
Step by step
As with any other part of a steam system, there are best practices surrounding the addition of vent condensers. The basic road map is:
1. Find and document the different flash steam vent lines that are discharging into the atmosphere.
2. Determine the flash steam loss to the atmosphere.
3. Calculate the projected energy loss and emissions reduction.
4. Determine what types of cooling fluids are available.
5. Install a condensate tank with a vent condenser.
Within that general outline, however, there are a lot of details to consider. Let's take just one area: the fluid for the condenser. As a general consideration, it must have a temperature of less than 160°F (71°C). The fluid may be a liquid or vapor, depending on the application. If there isn't enough cooling fluid for the flash steam in a liquid cooling system, then the plant should consider using a flash steam bypass or some other method to prevent the cooling liquid from absorbing too much energy and changing from a liquid to a vapor and causing water hammer.
Then there is the pressure in the condensate tank to consider, plus the flow rates of the condensate, flash steam and cooling fluid.
In other words, there are many parts to fit together. Fortunately, the consultants at Swagelok Energy Advisors are experts in steam systems and are glad to come to your site to help you navigate the best route to a more efficient and economical steam system.
Click here to read the complete steam system best practice: Vent Condensers for Flash Steam on Modulating Steam Systems and download a free, illustrated, three-page PDF of best practices related to flash steam recovery in modulating applications.
Additional Resources