Hose vs Tubing: Which one is best for an application?
by Jeff Hopkins, on 5/13/15 8:00 AM
Hose can be easier to install and flex on the job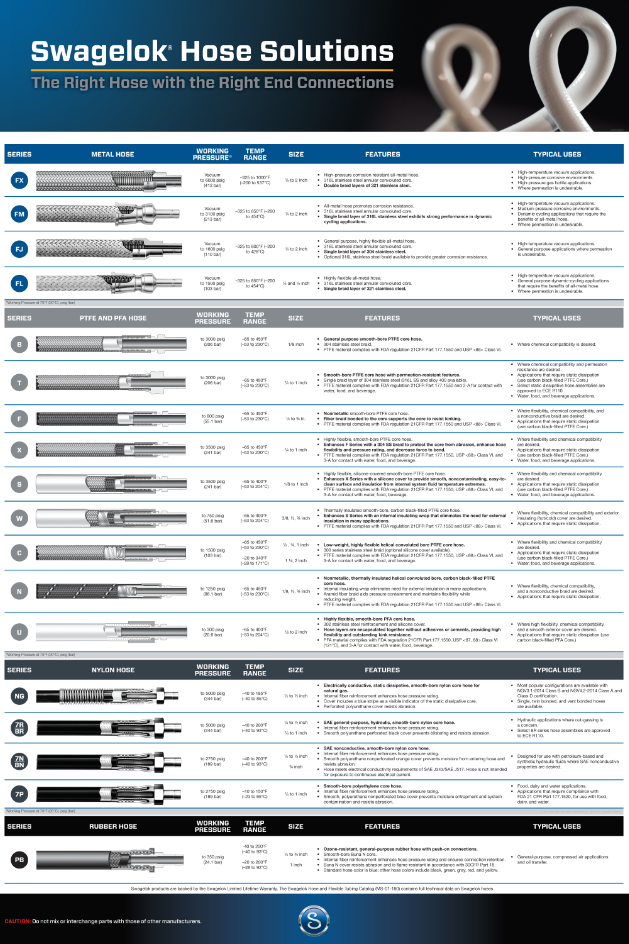 Get the Swagelok Hose Catalog, Quick Look, and Hose Selection Poster
Here »
In a previous post, we looked at the advantages of tubing over pipe. Sometimes a third option makes the most sense: hose, specifically Swagleok PTFE hose.
Look around, and you'll see hose in a wide variety of applications where flexibility and longevity are needed. You'll find them in steam sterilization equipment, injection systems, steam platen presses, anywhere that the machinery goes through a repeated movement while delivering gases or liquids. On motorcycles, PTFE brake lines and cable covers prevents any moisture or road debris from getting in. For drag racers, all the nitrous oxide systems are PTFE.
Flex time
The big advantage with hose is its flexibility. When you need tubing to change direction, you have to bend it or put an adapter elbow on it. That can affect flow rates and increase pressure drop. The added components add to the overall cost. A PTFE tube with a similar pressure capability may eliminate the need for joints and elbows. In a jet airliner, PTFE is likely to be the major fuel line. In the event of an accident, the fuel line won't crack and cause a fire hazard. The flexibility of hose means that you can easily deal with an offset between any two elements of your system. As caulk is to a carpenter, hoses are to designers and installers of fluid systems.
PTFE is also tough. It's corrosion resistant and easily cleaned. If you don't physically abuse it, it can last for decades. It also doesn't conduct heat as readily as stainless steel tubing, giving you an extra measure of insulation.
End connections
When we talk about Swagelok hoses, it's also important to talk about end connections. Swagelok can put almost any type of connection on the end of our flagship PTFE hose. We use a crimping process rather than swaging, which used to be the standard. We use a circumference compression die with eight segments. The die compresses the ferrule to the end connection, preventing pull-off and allowing the hose to maintain its pressure rating. It results in much less deformation of the hose compared to swaging.
At Swagelok, each hose has its own crimp specification. We test them, making sure that we maintain the proper inside diameter.
Check out our hose page and see which ones may be right for your system. And tell us what else you'd like to know about hose. We are preparing a pocket guide to hoses, and we'd like to make sure it answers your most important questions.
Additional Resources