Here is a Quick Look at Swagelok Northern California
by Jeff Hopkins, on 7/22/15 8:00 AM
A fast visual resource for must know info about Swagelok Northern California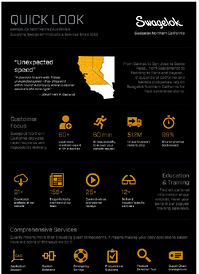 Take a Quick Look at our updated company Infographic
here »
Back at the start of 2014 we introduced an infographic that we called the Quick Look. As the name implies, it was a way to quickly tell you a few important things about the size and scope of Swagelok Northern California. Now, after only a year and a half, it's already time to update our Quick Look.
We have more inventory, more associates, a few more awards to hang on the wall, and more web resources to help you find what you need.
Pop quiz
Even some of our longtime customers might not know a few of the facts that make Swagelok Northern California unique. For instance, do you have any idea how many downloads are available at our site? Can you name all of the services available from Swagelok Northern California? Even if you recall that our previous Quick Look showed an inventory worth $8 million, what do you think the value is today?
So take a quick look at our infographic and see some of the ways we measure our company and learn web resources and comprehensive services that you may not know we offer. Remember, we strive for continuous improvement, so it probably won't be long before we have to update our Quick Look again. Take a Quick Look at our company infographic »
Additional resources