How We Strive To Be Our Customer's Favorite Story
by Jeff Hopkins, on 10/29/15 8:00 AM
Rod Fallow talks about the way our company vision plays out from day to day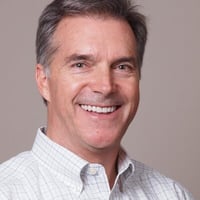 Here's a rare opportunity to
hear Rod Fallow
, president of Swagelok Northern California, talk at length about our vision, and what it means to you. He recently sat down with "Innovate for the Future" podcaster Dirk Beveridge in the first of a planned five-part series about how our company works.
As Beveridge points out, a lot of companies feel pressure to knock out a vision statement quickly. For Swagelok Northern California, it took a few years to distill our mission into a simple concept: Be our customer's favorite story.
"That was probably the toughest part of our strategic planning," Fallow says. "Getting to that vision statement is really critical. I'm not beside somebody every day while they are making decisions. I want something in their heads to guide them as they are making decisions for the organization."
Vision in action

Say, for example, that someone in the warehouse has to make a decision that's not covered by a work instruction. We want that person to figure out what they can do to make the customer say, "You guys are unbelievable." It might be as basic as shipping the right product, well packaged, on time, and doing it over and over a thousand times. But usually, it's something more.
"There isn't a single expenditure they can make in an effort to help a customer that will cause a financial problem for the company. So make it," Fallow says. Of course, we might put our heads together the next day to discuss a cheaper way to get it done in the future, but nobody will get in trouble for the initial decision.
"For me it's very exciting," Fallow says. "At every one of our associates meetings, I'll have 15 to 20 thank you e-mails and letters from customers, thanking someone in the organization for the outstanding work that they did. I think the vision is a big part of the reason why."
Attract, engage, amaze

That doesn't mean we don't pay attention to the bottom line at Swagelok Northern California. Everybody in the company does something that has an impact on revenue, inventory levels, accounts receivable and the like. But a vision has to be broader than merely hitting a financial goal. The world changes fast, Fallow says. If our goal is to be the customers' favorite story, the customer will give us permission to adapt to the changes.
Everything at Swagelok Northern California can be boiled down to three actions: attract, engage, amaze. That is, we have to bring the customers in or make it easy for them to find us, perform well on delivering high-quality components and services and instant expert support, and do something outstanding for them.
Often, the best opportunity to amaze someone is when things don't quite work right. We might ship a part by ground service and then realize that the customer needs that part the next day. Nobody has to ask a supervisor whether it's OK to ship out a new part with next-day delivery or find a way to get the part to them the same day.
"The greater gap we can create between their expectations and what we do, that's the 'amaze' part," Fallow says. "We've had people drive three hours into the Central Valley to get a part to somebody that night."
Listen to the podcast here >>
Additional Resources