Where Swagelok Northern California's Values Originate - Why They Matter
by Jeff Hopkins, on 11/17/15 8:00 AM
We didn't just buy some motivational posters; we defined our values as a group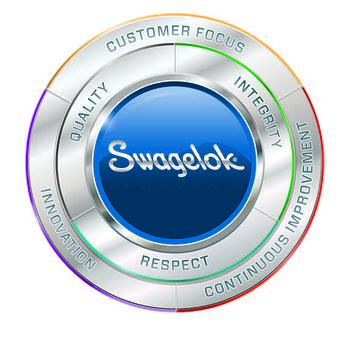 When podcaster Dirk Beveridge walked into the offices of Swagelok Northern California, he instantly noticed something different.
"You go into most organizations, and if there are portraits of individuals on the walls, more often than not, these pictures are of the founder of the company," Beveridge said. "Not at Swagelok Northern California. What you will find as you roam the halls of this industrial distributor, are six photos, of six different employees or teams of employees, each who have been voted by their peers as best representing one of the six values of the company."
Rod Fallow, our president, sat down recently with Beveridge to talk about those posters and the company culture behind them.
Getting in focus
Each workplace has a set of values whether they are explicitly defined or not, Fallow said, so Swagelok Northern California made an effort to get everyone involved in creating some definitions. The core of the effort was a series of roundtable discussions, off site and after hours, imagining that each person had just come back from a three-year sabbatical and discovered that Swagelok Northern California had just been named the best company in Northern California. What would have had to happen to make that possible?
People sat around tables in small groups, and made notes on how to answer that question. One person would stay at the table while the rest of the group would move on to the next table. The person who stayed would tell the new arrivals what the previous group had come up with, and then they worked on expanding the ideas. Each group had a mix of functions within the company.
"For the first time, somebody from accounting was listening to someone in the warehouse about what was important and what had to change," Fallow said.
Evaluating values
That wasn't the end of the discussion, however. Next came a discussion of the values people had personally. Then came a discussion of what they thought our company values already were. Then came a third discussion of what our company values ought to be.
In the end, the discussion produced unique definitions for six values:
1. Customer Focus: Knowing what creates customer value and providing it
2. Integrity: Doing the right thing, no excuses, no exceptions
3. Dependability: Providing unsurpassed quality and service
4. Respect: Gaining it by giving it
5. Achievement: Aiming higher, driving harder, executing flawlessly
6. Teamwork: Valuing all, working as one
Lastly, everyone voted on who they thought embodied each value. Photos of the top vote-getters were put onto the posters that Beveridge saw.
"The interesting thing to me was people were deeply engaged in the process. This was not six words on a board," Fallow said. "We didn't just pay $9.99 for a poster and put it up on the wall."
Putting values to work
Teamwork, dependability, and achievement remain high values in our company culture, however, we have recently updated our values to reflect our continuously improving and innovating associates and our total commitment to delivering quality products and services.
1. Quality
2. Integrity
3. Respect
4. Customer Focus
5. Continuous improvement
6. Innovation
Swagelok Northern California puts those six values to work when we hire.
"I don't think we are capable of converting somebody's values," Fallow said. So we look for people who already have the values we stand for. We discover that through a rigorous interview process that includes phone as well as group interviews, plus interviews with senior executives and, when we've narrowed the choices to the top two or three, an interview with Rod.
We also use a psychological test that becomes part of the continuous improvement process. We go back and see how our top performers did on their tests, and we try to look for more people like that.
Fallow had a lot more to say about the need for continuous improvement and how that has changed Swagelok Northern California in recent years. You can listen to the full, 34-minute interview here.
Additional Resources