Swagelok Hose Webinar at 10am: 5 Steps to Selecting the Right Hose
by Jeff Hopkins, on 4/4/13 7:00 AM
Join us today at 10am for a 25-minute technical briefing on hose selection from Patrick Werrlein, a Swagelok hose expert who has managed the Swagelok hose product line and led Coreflex LLC

In this technical briefing, Werrlein will use his twenty years of hose industry experience to give you a tutorial in hose selection.
Register now »
When hose is the right way to get a fluid from Point A to Point B, it's important to pick the right one. We'll help you do it with a free technical webinar today at 10 a.m. PT. Our presenter, Patrick Werrlein, will cover important hose terms, application variables, the pros and cons of various types of hose, the four main components of a hose and their importance in selecting a hose.
Werrlein joined Swagelok in 2008 and has managed hose products for Swagelok. Before that, he was principal of Coreflex LLC, the high-quality hose manufacturer that Swagelok acquired.
"A typical industrial hose is dragged, coiled, run over, kinked and subjected to all kinds of abuse," Werrlein says. "Selection of the proper hose will increase hose life, improve performance, and ensure safety."
Takeaways
As with all of our live webinars, participants will have an opportunity to ask questions directly after the main presentation. You'll also get the presentation slide deck and a detailed article by Werrlein on hose selection. Register now »
Additional resources
Downloads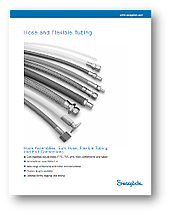 Swagelok hose and flexible tubing catalog
Related articles