Swagelok Hose Q&A: When NOT to use static dissipative Teflon® Hose?
by Jeff Hopkins, on 4/10/13 7:00 AM
If you were unable to attend our webinar, here are some questions you missed and access to additional hose selection tutorials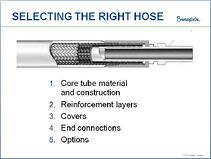 In this technical briefing, Werrlein used his twenty years of hose industry experience to give a tutorial in hose selection. You can now access Werrlein's presentation slide deck and hose selection article.
Hose Selection Tutorials »
Our April 4 webinar on hose selection was well received, and presenter Patrick Werrlein answered quite a few questions from the audience at the conclusion of his presentation. We'll put the entire webinar online soon. In the meantime, here are a few of the questions Patrick tackled:
Q: You mentioned static and dynamic bend radius. Could you explain what the difference is?
A: If you look in the catalog, at the technical data, you are going to see for bend radius the maximum amount of bending that a hose can do before it starts to kink. There will be two ratings: static and dynamic. Static is where the hose would go into an orientation and stay there. If it isn't going to move, that would be a static application. Now, if we took that same application and that hose was going to do a lot of movement, moving up and down, we would then take a more conservative approach on the bend radius, factoring in the material movement. So if the hose, when static, had a six-inch radius, you may see the dynamic bend radius be more around eight inches.
Q: Is there permeability data for the different core tubes and common fluids?
A: If we had a hose that was two feet long, and another hose of the same material that was 50 feet long, put into the same application, the 50-foot hose is going to show results of a much higher rate of permeability, particularly over a period of time. That's because of the exposed amount of hose. Now, if you took the same hose product, and you put it into different types of gasses, different types of pressures, different cycling of pressure up and down, you'll find the rate of permeability is going to be all over the place. To sum it up, it's almost impossible to answer without running a test mirroring that specific application.
I would say the rule of thumb is to start with the least permeable material: You look at an all-metal hose. In a lot of cases, there is a good-better-best scenario. So maybe the all-metal hose is great from a permeability standpoint, but you have a dynamic application and there's a lot of movement. You may want to look at a material that covers both. One that may not be as good with permeation but is better against flex fatigue.
Q: Any concerns about using static dissipative Teflon® hose in an application that does not require it?
A: The only exception is going to be a pharmaceutical type of application, where you have a really sensitive media, say, a vaccine facility or a food account where you are concerned about the product coming into contact with Teflon® that has had carbon added to it. The leachable or extractable rate on those is just about zero, but there's a concern that it could happen. Outside of that, if we are talking about any general industrial application, then no.
Q: Who should be checking hoses at our plant, and what are some indications that a hose is wearing out?
A: You certainly want to make sure you partner up with companies that have the expertise. We have a global distribution network. Northern California has certified people who are fully capable of doing integrity assessments at your facility, to look for improvements of mis-installations and mis-alignments. There are some easier ones to look at. Obviously if a hose is kinked or has braid wearing, for instance, there's a potential there. The pressure containment of that hose has been jeopardized. Or if you can see where a hose is bending against its natural curvature.
Q: The 7P Series hose says it is static dissipative. Is the polyethylene also mixed with carbon?
A: The carbon in Teflon® is what makes it static dissipative. The reason Teflon® has to have carbon added is that it is such a wonderful insulator. Good insulators are bad when it comes to static charges. The 7P hose is not Teflon®, so the material itself is static dissipative.
Q: What are typical applications where you see the wrong hose being used?
A: Just to give you an example: If you have a tire press application, where you have the mold coming up and down as the tires are curing. So in these the hoses constantly move up and down. If you are looking at all-metal hose because you want something compatible with steam, and is fairly flexible, it's a good choice. However, because of the dynamic application, that metal will wear out prematurely. You probably want to go with an alternate material. For that instance: convoluted Teflon® hose. It is far more flexible, and also steam compatible.
Now, in gas applications, if you had a helium or hydrogen line, or concern of any permeation, Teflon® is probably not the ideal choice. It gives you a lot of flex characteristics; it's smooth bore, economical. But it could present some issues. I'll give you one more: a push-on rubber hose is great for ease of installation, but water at elevated temperatures has an impact over time.
For more information on hose selection, download Werrlein's presentation slides and his article, Choose the Right Hose: A Practical Guide to Hose Selection. Hose Selection Tutorials »
Additional resources
Downloads