Coming Soon: Swagelok Process Analyzer Sampling System Training
by Jeff Hopkins, on 4/30/13 7:00 AM
Reduce sampling system errors and improve process analyzer reliability with this 5-day PASS training from Swagelok Northern California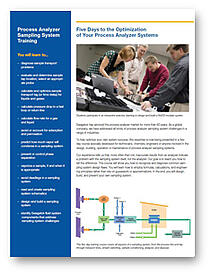 The Swagelok Process Analyzer Sampling System training from Swagelok Northern California will be taking place June 17-21st.
Get the details »
Set aside the week of June 17 through 21 to attend our Process Analyzer Sampling System (PASS) Training class, led by a true expert in the field. Tony Waters has 45 years of experience with process analyzers and their sampling systems. He has worked in engineering and marketing roles for an analyzer manufacturer, an end-user, and a systems integrator. He founded three companies to provide specialized analyzer services to the process industries, and is an expert in the application of process analyzers in refineries and chemical plants.
Waters will be in Northern California in person to lead this five-day, hands-on training course. You may recognize him from our Pre-Engineered Subsystems (PrESS) webinar last year.
Learn valuable skills
When you finish the training, you'll be able to:
Recognize and diagnose sample transport problems
Calculate pressure drop in a fast loop or return line
Prevent or control phase separation
Read and create sampling system schematics
Design and build your own sampling system
Return to work with valuable knowledge and skills you can apply right away.
This course is essential for technicians, chemists, engineers, or anyone involved in the design, building, operation, or maintenance of process analyzer sampling systems. It's appropriate for basic training or as a refresher for experienced professionals.
The textbook on sampling systems
Attendees will get a very special bonus to take home with them. Tony Waters has just distilled his half-century of expertise into a 744-page book titled "Industrial Sampling Systems: Reliable Design and Maintenance for Process Analyzers."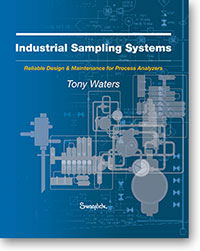 "I spent five and a half years on the book. It was a huge amount of work," Waters says. When he suggested the idea, Swagelok enthusiastically supported his effort. The book is based on versions of the PASS class, in fact.
"The class is engaging, very intensive, and covers a lot of material, after the course, when students go through the book at home a lot of what we covered will come back to life again," Waters says. That's where the book's section on the metric SI system of measurement will come in especially handy. It's the system most of the world uses, and the language that Waters will use in the class. So brush up on your meters and Pascals.
We're spreading the word about the PASS class now because space is limited, and our registration deadline is May 20. Learn more about the Process Analyzer Sampling System training and how to register here.
By the way, the PASS class will involve a lot of calculations. It's simple division, rather than calculus or trigonometry, but there will be a lot of calculations to make. Bring a sharp pencil.
Additional resources
Downloads