Two Kinds Of Flexibility: Swagelok Hose And Our Custom Solutions Team
by Jeff Hopkins, on 5/30/13 8:00 AM
Our local team can build hoses in the quantities you need, when you need them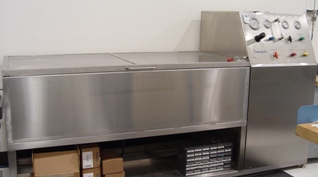 Our technicians are certified by Swagelok manufacturing engineers through a rigorous certification process that includes passing destructive testing of 40 different hose assemblies. Learn more about our hose assembly capabities
here»
We have highlighted the flexibility of Swagelok's X, S, and W series of PTFE hose. If you've seen our "hose pretzel" samples, you know how the hose requires minimal force to bend, yet has a lot of "hoop strength" from the unique braiding we use.
There's another kind of flexibility involved with all types of hose that we produce. It's the flexibility of our technicians who manufacture the hose to your specifications right here at Swagelok Northern California. We can handle orders from one piece to hundreds of pieces, and offer a wide variety of hose solutions. In some cases we can build a hose in ten minutes.
Dedicated team
We have a team of full-time technicians along with support staff managing the front end of the operation who focus on building hose in a facility dedicated for just that job. Together, these Swagelok Northern California associates help customers by supplying thousands of custom hose assemblies each year.
Within our assembly process we maintain tight tolerances and certified testing. We can do hydrostatic tests, helium leak tests, and pressure decay testing. Some hoses require that we provide a test certificate, and some don't. But we can provide testing and documentation with any hose if requested. If the need ever arises, we can trace each individual hose back to the original technician and manufacturing process run.
Certified skill
Our technicians are certified by Swagelok manufacturing engineers. To pass, they have to produce three samples of every kind of hose we build. That's about 40 different hoses in all, and each one is put through destructive testing.
In the years we have been building hoses, we have shipped about 100,000 of them. Only one has ever come back because it leaked. And that is one too many because our goal is zero customer dissapointments.
Labeling and packaging
In addition to the hose itself, we offer a variety of labeling options. We can use self-adhesive labels, matte tags that are color coded, and Perma Tags with up to five lines of information and protected by a silicone gel and sleeve.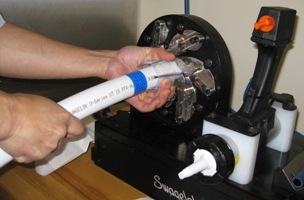 In the future we will offer RFID tagging as well. Some hose shops will bulk-bag their product. Not us. We single-bag every hose we make. While we assume that the customers are using each hose individually, our packaging is driven by the customer specifications. Some of them need double-bagging, one to get it on site and the second to get it into a clean room.
Fast action
We plan in our production schedule to keep some capacity available for customers with emergency needs. We know that a leaking hose can shut down an entire operation. A customer with that kind of emergency needs a replacement now. A lot depends on the individual specifications and stock on hand, but we can usually have a 20-foot hose ready at our will call counter within about 30 minutes.
Different hoses have different materials of construction that affect maximum length, but we have built some hoses up to 1,800 inches long. If a customer is willing to accept splices, there's virtually no length limit at all.
We pride ourselves in the fact that we help our customers quickly, and our product works. There really isn't much we can't do when it comes to hose. Check out our catalog to see what we mean, take a look at our hose assembly capabilities or contact us if you would like to discuss your hose application.
Additional resources
Downloads