Swagelok Northern California: We Are Only As Good As You Say We Are
by Jeff Hopkins, on 9/26/13 8:00 AM
Net promoter score survey helps us find out how our customers are experiencing our service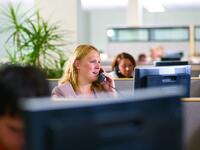 We want to hear from you. How are we doing?
At Swagelok Northern California, we want to keep doing the things that customers like, and look for areas where we can serve them even better. The only people who can tell us how well we are doing are our customers, so each year we contact some and ask for their opinions.
We used to send out end-of-year surveys but, as with most surveys, the response rate was insufficient. Then in 2011, Rod Fallow, our president, decided to switch to a new system called the Net Promoter Score (NPS), developed about 10 years ago by Bain & Co. The customer simply rates us on a scale of 1 to 10, and is invited to include anything they wish to explain the score.
It was a big improvement over our previous system.
"For one thing, it is very easy," says Greg Wittkopf our director of operations. "It's not a 30- or 40-question survey that will bog people down and turn them off." In fact there is one primary question: On a scale of 0-10 considering your most recent experience with us, how likely would you be to recommend us to a colleague or friend? The secondary question is open ended: What is the primary reason for your score?
By making it simple and quick, we got two or three times the previous response rate, and the customers were not limited in their choice of what they could share with us.
Number crunching
Some customers choose to just give a score, and that's useful all by itself. First we tally the customers that give us nines and tens. Those are known as "promoters." Anyone who scores us at a six or less is a "detractor." The higher ratio of promoters to detractors, the better we are doing. We already know the average NPS numbers that companies our size get, and we're proud to say that Swagelok Northern California is running ahead of the averages by many percentage points.
When customers do elaborate, that's even better since we can see what resonates with customers and any areas we can improve. We group the comments by subject: customer service, pricing, lead time, on-time delivery, etc. If a customer says something nice about a specific Swagelok Northern California associate, we'll forward the comment to that associate and their supervisor, and the customer's account manager. It will be mentioned in staff meetings, too.
"It's very important that our associates know that the customer appreciates their work. It makes them even more willing to go above and beyond, to work through part of lunch or stay late," said Markisha Greggs, our customer service manager. "The more detailed a person can be in a response, the more valuable it can be. One of my biggest fears is we stop doing something not knowing that's the reason someone enjoys doing business with us."
Positive or negative, the detailed responses are the ones that help us the most.
Righting wrongs
Negative responses of any type are forwarded to the account manager, our director of operations, and the president. If the complaint is specific, the account manager will contact the customer and get as much extra information as possible about the situation, or more detail on the general comments. In this way we can sometimes uncover a solution to a problem. If it takes too long to get a custom made part, there might be a stock part that would do the job. Or if they buy a lot of that part, maybe we can start keeping it in stock.
The first year we used NPS, we got good scores, but not as good as we wanted. But the feedback from the surveys helped us determine what changes to make and actions to take to better serve our customers. We escalated our product training for our associates, hired extra staff for support, and moved some people to different positions to make sure we were taking care of things that were most important to customers.
"We work hard to ensure the NPS results reveal that we are providing great service by being very responsive, and by being easy and enjoyable to do business with," Wittkopf said.
Now that you know how it's done, you might like to meet some of the customer service staff who are so important to our good reputation. We plan to profile a few of the people who staff our will call counters, and other employees in some upcoming posts. Also, please tell us about your most recent experience by taking our survey here.