As the industry gets ready for larger wafers, holding down costs through collaboration and innovation is the key to profitability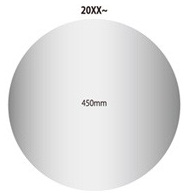 The 450mm Transition Forum emphasized that collaboration, innovation, and cost containment is critical to profitable success. We agree. We want to find innovative ways to collaborate with you
Contact us »
One highlight of this month's SEMICON West conference in San Francisco was a special forum on the pending industry transition to a larger silicon wafer, from 300 mm to 450mm. We were part of the standing-room-only audience, and were inspired by what we heard.
Jonathan Davis, global vice president of advocacy for SEMI, kicked it off by saying the upcoming transition is more than just adopting a larger wafer, it is an opportunity to transform the semiconductor industry through unprecedented collaboration and innovation.
He then introduced Paul Farrar, general manager of the Global 45MM Consortium, which we have written about in previous blog posts. His goal is to start high-volume manufacturing by 2015-2016 at the College of Nanoscale Science and Engineering fab in Albany, N.Y. He noted that there are currently eight new wafer tools installed and plans to bring in 10 tools per quarter. Wafer quality continues to improve, with the number of defects dropping by 90 percent since inception. It is now not a matter of if the transition will take place, but when. His team is already several weeks ahead of schedule. Farrar mentioned the importance of the newly formed Facility 450 Consortium, which includes Swagelok. This transformation is not just about 450mm wafers and 450 mm wafer tools, but about the facilities and supply chains that support it. That means Swagelok is part of a group that will be instrumental in this transformation.
Lessons learned
We also heard from Hamid Zarringhalam, executive vice president of Nikon Precision, who spoke about advanced lithography for 450mm application. Since 1974, the semiconductor industry has managed to reduce costs of a chip 30 percent per year, he said. This will be very difficult to continue in a 300mm environment, thus the push to 450mm. The new wafer increases the effective chip area by 2.4 times, which will stimulate greater economies of scale and foster tremendous industry innovation.
The industry also is looking at the lessons learned from the last transition. The development of the 300mm wafer cost nine times the previous transition to 200mm, and it took 14 years to recover the investment. The importance of the consortium is that we need unprecedented collaboration to minimize the cost of the transition to 450 mm. This collaboration would include: synchronized technology roadmaps, optimized timing, and risk and R&D cost sharing. The bottom line is that the transition must cost less than the productivity gained. Nikon will be providing 7500-8000 patterned 450mm wafers to the Global 450 Consortium by the end of 2014.
Holding down costs
Wrapping up the forum was Chris Richard, a partner at management consulting firm Pricewaterhouse Coopers, who outlined the profitability challenges faced in the 450mm transition. They include a smaller customer base, smaller production volumes, an uncertain adoption time, the complexity of scaling the old and new technologies simultaneously, and the need to keep investing in 300mm systems for now. But other industries have managed similar transitions well. He pointed to Boeing's transition from the 747 jetliner to the 777 and 787 over the past 30 years.
Richard outline three profitability opportunities:
Standardize customer performance requirements. This would reduce the need for variable and customized configurations, and would mean simpler designs, production and maintenance. All those would hold down costs.
Standardize select sub-systems and components where IP content is not critical to tool performance. This would reduce manufacturing complexity and the cost of inventory and servicing.
Co-develop with suppliers. If suppliers are more involved in product development, each can focus on what it does best.
"The 450mm transition is raising significant profitability challenges for equipment vendors and suppliers. Other advanced manufacturing industries have leveraged similar transition to implement collaborative practice to enhance profitability," he said. "What will it take for the Semiconductor industry to the do the same?"
450 Panel
The presentation was followed by a lively panel discussion of leaders from four major equipment makers (Applied Material, Lam Research, KLA-Tencor, and Tokyo Electron Limited) that covered more than we can report here. But it re-enforced the notion that keeping down costs will be the key. To do this, the industry should expect more consolidation and drive more standardization, collaboration, and innovation. The final question to the panel asked them to predict how many 450mm high volume manufacturing lines will be in production by 2020, the consensus was four to five.
Additional resources
Downloads