ISO 9001 Certification: Swagelok Quality System Goes Above And Beyond
by Jeff Hopkins, on 10/18/13 8:30 AM
ISO certification combined with the Swagelok Quality System, it's a recipe for confidence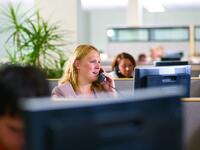 We want to hear from you. How are we doing?

When it comes to quality performance, how do you know that a company doesn't just talk the talk, but really walks the walk? One way is through certification by the International Organization for Standardization. Swagelok Northern California has just been re-certified for ISO 9001:2008, which specifies requirements for a quality management system. You can see the certificate here. An organization needs to demonstrate its ability to consistently provide products that meet customer and applicable statutory and regulatory requirements. Certification also shows that the company aims to enhance customer satisfaction through the effective application of the system. That means it has processes for continual improvement of the system.
Swagelok Northern California has had ISO certification since 1998. Every three years there is a full audit lasting two and a half days, and in between the main audits there are partial audits annually. In an audit, someone comes in and checks out every process we have. The auditor checks us as we enter orders to make sure we are following our written procedures. The same goes for the people picking parts and packing orders.
Some of our customers require ISO certification before they'll do business with a supplier. In fact, if a customer wants to see our quality manual -- and some do request it -- we will gladly send a copy to them. But there's an even more important reason to have all the procedures in place. This kind of consistency helps ensure that the quality of our work stays as high as our customers have come to expect.
But wait, there's more
But Swagelok goes further. While the requirements of ISO 9001:2008 are good, they are not specific to Swagelok Northern California and our vision, mission, and values. That's why Swagelok Company developed the Swagelok Quality System. It takes the good standards developed by the International Organization for Standardization, and applies them specifically to Swagelok's world wide organization. The structure of the Swagelok Quality System requires objectives to be clear and measurable, people to be well trained, equipment to be properly maintained, processes to be consistent, and an implementation evaluation every three years by a third party registrar. This translates to efficient processes, productive employees, consistent quality, and satisfied customers.
As Swagelok Company CEO Art Anton writes, "The Swagelok Quality System is designed to help us achieve our vision of truly understanding and acting on the needs of our customers. Following the Swagelok Quality System will help us keep our promise to never disappoint the customer as we systematically do things better and offer more."
The Swagelok Quality System means that whether the work is done locally here in Northern California or at Swagelok headquarters in Ohio, customers can be assured of the same high quality.
Our quality policy
Be our customer's favorite story by understanding their needs and striving to exceed their expectations through the utilization of our quality system and a passionate commitment to continual improvement.
We want to hear from you. How are we doing?