Swagelok Pressure Gauge Selection and Installation Tips
by Jeff Hopkins, on 12/5/13 12:00 PM
Choosing and installing a pressure gauge is not always as easy as it seems
Get access to Industrial and Process Swagelok Pressure Gauge catalogs
here »
Choosing and installing a pressure gauge is not always as easy as it seems, so here are a few tips that should help simplify selection, ensure proper operation, and extend the service life of your gauges.
Pressure range
In general, when choosing a pressure gauge, it's best to choose a pressure range that is roughly two times greater than the average pressure of your system. This gives sufficient over pressure protection and better accuracy.
For applications with constant, steady pressure, the measured pressure should be no more than 75% of the full scale range of the gauge. For applications with fluctuating pressure, the measured pressure should be no more than two-thirds of the full scale range of the gauge.
Sweet spot
A pressure gauge is usually most accurate in the middle third of the dial. When selecting a gauge, be sure that your normal system pressure falls within that "sweet spot". For example, if your system pressure is 100 psi, consider using a 200 psi gauge.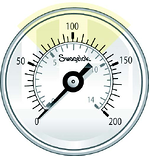 Some pressure gauge models are available with dial faces of different diameters. Normally the larger the dial diameter, the more accurate the gauge.
Proper orientation
To make a gauge easy to read it needs to be installed in the proper orientation so the dial face is pointing toward the user. Many gauge designs utilize pipe fittings to connect the gauge into a system and these pipe threads can make orientation of the dial very difficult.
To get the gauge dial to face the desired direction, often times the installer will either overtighten the gauge possibly damaging the pipe threads, or under-tighten the threads and possibly cause a leak.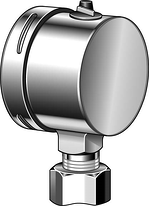 Swagelok Tube Adapters
Swagelok Pressure gauges offer a unique end connection option that simplifies installation when they are used with a Swagelok tube fitting.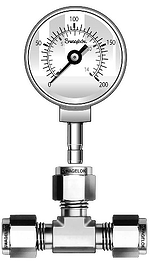 Gauges with integral Swagelok tube adapters eliminate alignment problems because the gauge dial can be aligned to the desired position and it remains stationary during pull-up of the fitting.
Swagelok Pressure Gauges
For more details on Swagelok Pressure Gauges available from Swagelok Northern California, check out our Industrial and Process Swagelok Pressure Gauge catalogs page »
Additional resources