Infographic: 25 facts about Swagelok Northern California
by Jeff Hopkins, on 1/23/14 8:30 AM
How many millions in local inventory? Annual R&D investment by Swagelok? Reps' average years' tenure? ... and other intel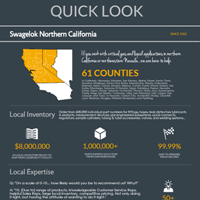 This infographic gives you quick facts on our operation and quick access to a dozen plus resources (click the icons).
Go »
You know that Swagelok Northern California is the place to go for quick delivery of Swagelok valves, fittings, tubing, gauges, regulators and more. But ever wonder just how many parts we ship each year? How much inventory we keep on hand? How long our team members stay on board?
Bite-size intel
Wonder no longer. A new infographic delivers bite-size intel on our operations. For instance, we are here to help companies with critical fluid systems in 58 counties in Northern California and northwestern Nevada. How many can you name without looking at a map?
Obviously you know we have a blog, because here you are reading it. But there are four other ways that we convey information over the Internet. Can you name them without peeking?
From its headquarters in Cleveland, Swagelok Company has a worldwide network of factories, technical centers and distributors. A lot of components are made in Cleveland, but in how many other places around the world does Swagelok have manufacturing operations?
Mission: make it easier
Once you get to know us even better, you'll have even more confidence in Swagelok Northern California to help you with your critical gas and fluid applications in 2014. Things like this infographic are part of our larger mission: Make it easy for companies working with critical gas and liquid applications to do business. It's why we rolled out this new Resources website in 2012 and have added 100+ items to it since (check out the recently expanded Services and About sections). It's why we come to work every day. It's what's kept us ticking since 1963.
Still, we are only as good as you say we are. Please take just a moment and give us your feedback.