Meet the President of Swagelok Northern California, Rod Fallow
by Jeff Hopkins, on 3/5/14 8:00 AM
Last month we celebrated President's day, in this week's article we are featuring our President, Rod Fallow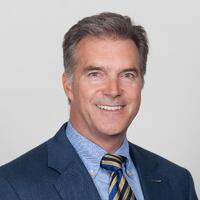 Take a quick look at the company Rod leads. This infographic gives you quick facts on our operation and quick access to a dozen plus resources (click on the interactive PDF and take the infographic to the next level).
Go »
Recently, when asked what Swagelok Northern California should be focused on as an organization, Rod replied, "Our vision is to be our customers' favorite story. What that means to me is that central to supporting companies who work with critical gas and liquid applications and have a high cost of system failure, is that we certainly need to do the regular things really well - we need to deliver a high quality product, and it needs to be there on time and in the right quantity, we need to provide instant expert technical support, but we need to do more than that….the companies that work with us really need us to deliver on our core values (Customer Focus, Quality, Continuous Improvement, Innovation, Integrity and Respect), so they can concentrate on their core competencies and develop the life-changing, life-saving technology that they are working on."
"The customers that work with us, if they are raving about us, if they're talking about us, and we become their favorite story that means we are helping them make a difference in their business; they will be able to explain how we are making them more competitive, more productive, and how we make it easier and easier for them to do business."
We are only as good as our customers say we are
Several years ago, Rod introduced our organization to the Net Promoter Score, a short survey that we regularly ask customers to fill out. It asks only one question: "On a scale of 0-10 considering your most recent experience with us, how likely would you be to recommend us to a colleague or friend?" Then it asks the customer to provide the primary reason for the score. We know that if we are delivering on our promises and values, going beyond the basics of delivering excellent products and services to make a difference in their business outcomes, and heroically recovering when we do not, then our Net Promoter Score will continue to increase.
From salesman to president
Rod has enjoyed a long and varied career with the Swagelok organization. He started in Canada, his native land. His roles have included several international responsibilities. His experience includes sales, distribution, manufacturing, and marketing. His role just before moving to California in 2001 was the vice president of marketing for Swagelok Company in Ohio. Leading up to his current role, he was the president and owner of Swagelok Sunnyvale until 2010, when he oversaw the merger of Swagelok Sunnyvale and Oakland Valve and Fitting, and the birth of Swagelok Northern California.
Aligned and ready
Rod is always coaching, mentoring, and leading the rest of us at Swagelok Northern California. He is continually generating and sharing ideas on how we can continuously improve as individuals and as an organization in order to better serve our customers and provide a challenging, growing and stable company for our associates.
He also listens. This past month, Rod has been meeting with small groups of Swagelok Northern California associates for lunch and a discussion about the company's vision, mission, values, goals, and strategies to ensure that all associates are aligned and ready for the challenges ahead. These discussions have produced some great ideas and have created greater understanding of each associate's critical role in realizing our vision, executing our mission, living our values, implementing our strategies and achieving our goals.
A brighter future
In addition to leading Swagelok Northern California, Rod has been thinking about ways he can help others. In recent years, he has become involved with Living Classroom, a non-profit educational organization. He is currently an active member of their board. He has also made a personal commitment to use his time, talent, and resources to make a measurable difference in the lives of thousands of children by rallying other like-minded individuals to join him in the endeavor, and sowing the seeds for a future non-profit to carry out this commitment. I am hopeful you will hear more about this in a future article.
Additional Resources
Related Articles
Swagelok Northern California: We Are Only As Good As You Say We Are
Living Classroom Gives Kids Knowledge to Grow On
ISO 9001 Certification: Swagelok Quality System Goes Above And Beyond