Case Study: Energizing A High Tech Battery Maker's Fluid System
by Jeff Hopkins, on 6/14/17 9:00 AM
With the help of our Application Support team, SEEO is saving time and money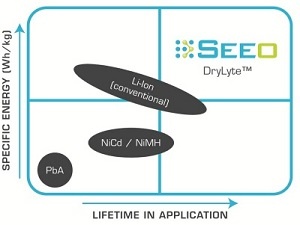 For its new generation of high-tech batteries, SEEO Inc. in Hayward demands a lot from its research and manufacturing equipment. SEEO's DryLyte electric storage devices are nothing like the AA batteries that run so many of our tech tools and toys. The DryLyte products deliver 160 volts to 320 volts, and are designed for applications such as telephone backup power, or running electric vehicles.
---
Clogging and downtime
SEEO's research and development processes include filtering a viscous polymer solution before supplying it to the rest of the system. The company had been using syringe pumps and disposable membrane filters, but the syringe pump could not handle the high viscosity of the polymer. Membrane filters were clogging every 10 minutes, which sometimes resulted in a safety shutdown. To keep the downtime to a minimum, someone had to sit right next to the pumps, monitor the process and replace filters.
The company was spending hundreds of dollars a day replacing clogged filters, and tens of thousands of dollars in manpower that could be put to better use elsewhere
Cleaner and faster
Scott Mullin, senior scientist at SEEO, came to Swagelok Northern California for help. We connected him with Neil Ide, product manager for Assembly Solutions, and Annamarie Armstrong from our inside sales team, to discuss the details of the application. Ide suggested a new design that did away with syringe pumps, and used components that included a Swagelok filter and pressurized gas.
The new solution was in place in a matter of months. A process that used to take two to six hours now takes only 15 to 30 minutes, with perhaps one filter change. It does not have to be monitored as closely as the old system, and the filter clogs much less frequently. SEEO is saving money on filters, and has recaptured lost productivity by taking one of its people off monitoring duty.
"I don't think we would have found such a clean and quick solution without Swagelok Northern California."
"We are very happy with our setup," Mullin says. "It's saved us a lot of time and probably a lot of money as well, both in having less consumables, and because we had a filter pump die that we no longer need to replace. They run about $2,000."
As SEEO perfects its R&D process, the company hopes to create a large-scale version that will involve gallons of polymer at a time. Mullin already expects to seek out more advice from Swagelok when he reaches that point.
"I can't thank Annamarie and Neil enough," Mullin says. "The help and persistence was very valuable to us. I don't think we would have found such a clean and quick solution without Swagelok Northern California."
Standing by to help
Whether your business involves semiconductors, biopharmaceuticals, metallurgy or fluoropolymers, we have engineers and scientists that can support you. They can help you get the best systems for manufacturing, maintenance, repair and operation.
Not only can we suggest designs, we can save you hours of development, design, and drawing time with downloadable 2D and 3D CAD template drawings.
You may have been using a component that's no longer made, or one that was manufactured by a company that no longer exists. Swagelok Northern California's can help you find viable alternatives. Or we can team up with your organization to prototype and develop components that will get the job done.
It's easy to explore your options. Contact our application support team online. Ask us a question, and we'll respond by phone or email.
---
additional resources
---
get in touch
In a hurry or have a question? Please click here to get in touch - we respond fast! Or call 510-933-6200.
---