Comprehension Improvement by Training Type [Chart]
by Jeff Hopkins, on 4/26/18 8:45 AM
What Swagelok Field Services

found when they

measured effects from five steam training techniques at industrial plants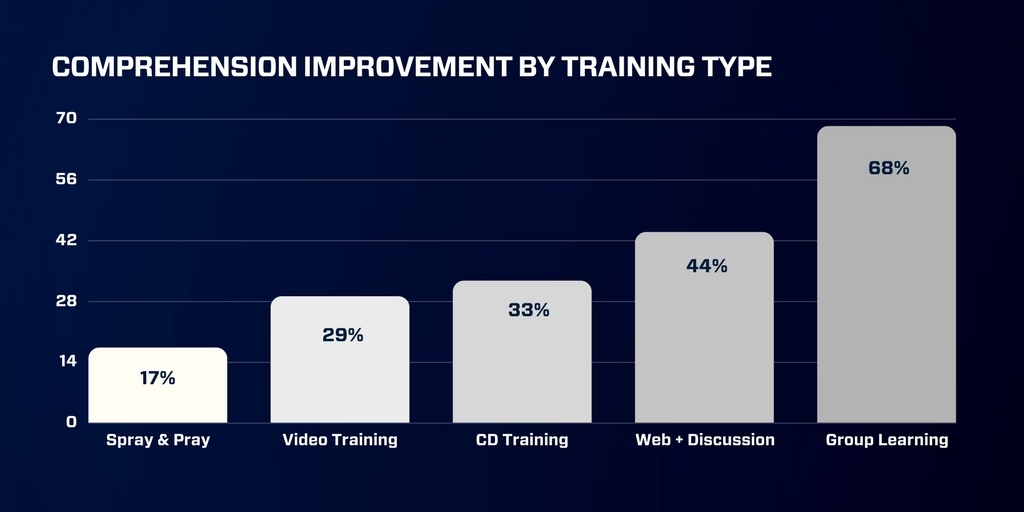 Source: Results of a study done by Swagelok Field Services (formerly SEA, Inc.) on the "comprehension levels achieved by various training techniques in steam system training at industrial plants". Groups were tested before and after "spray & pray" training, video training, individual CD training, internet training with interaction and testing, and group interaction learning with certification.

---
As critical as fluid systems are for industrial plant operations, too few people know how to properly use their fluid systems to their full potential. That's true even in some places where management provides training. There's a simple reason for that: not all training programs effectively convey knowledge.
Spray and pray
A poor training program is nothing more than a waste of dollars. One of the worst is the "spray and pray" method of delivering inspirational messages or running packaged videos, and then hoping for the best. For the participants, the best part of the session is the free lunch or simply a chance to get a paid break from their regular jobs.
They won't say that, of course. When management tries to get some feedback on the training session, the response is typically a noncommittal "it was good." When managers push a little harder, asking what participants learned that could help their work performance or the fluid system's effectiveness, they often receive an eye-opening response.
In reality, many training programs are more oriented toward selling products than changing personal behavior and sharpening everyday system operation. There's no connection between the training and the acquisition of reliable, functional knowledge of fluid systems.
Group effort
The key to changing attitudes is involvement. Effective fluid system training should incorporate discussion groups and simulation exercises that get participants involved in the topic, not just sitting there listening to videos or speakers.
When recruiting or hiring an instructor, look for one with a strong proficiency in involving students. If you can, test the instructors to learn their level of skill at delivering training content. Instructors who use stories all day long in their presentations are storytellers – not instructors.
---
How Swagelok Helps Praxair Stay On the Safe Side with Products, Assembly Services and Training ›
---
Swagelok Field Services (formerly Swagelok Energy Advisors) surveyed the comprehension levels achieved by various steam training techniques at industrial plants. Swagelok Field Services tested a variety of groups both before and after training.
Here are the comprehension levels for five different types of training:
Spray and Pray: 17.3%

Video Training: 29.1%

Individual CD Training: 32.7%

Internet Training with Interaction and Testing: 43.9%

Group Interaction Learning with Certification: 68.3%
Group interaction is the best method of fluid system training, along with the certainty of a test at the completion of the class. Trainers need to use carefully developed exercises that assure proficiency. They need to focus on examples, and allow the attendees to execute their knowledge through exercises.
Interactive, positive learning results in better fluid system utilization, cost savings and wiser use of energy. It also creates a more positive attitude toward training in general, which sets the stage for further profitable improvements in your company's future.

Top to bottom
The most successful training programs also encompass everyone at an industrial plant, from the plant manager down to the pipefitter. Without this level of commitment, no amount of job-specific training will achieve the desired goal of maximum fluid system effectiveness.
A typical list of plant personnel who should attend training would include:
Management
Safety
Environmental
Engineering
Production
Maintenance supervision
Maintenance staff
Pipe fitters
Getting everyone involved in the training program means that everyone will have the same level of understanding of fluid systems, along with shared insights on the various solutions to common fluid system related issues.
What's next: Learn about our comprehensive training services and events coming up:
In a hurry or have a question? We are ready to help. Just ask!