Need To Protect Shaft Seals? You'll Need A Plan, Too
by Jeff Hopkins, on 5/1/19 8:45 AM
API Standard 682 has plenty of plans, and Swagelok can help you navigate them
---
"

Swagelok seal support system designs avoid pipe threads and limit the number of connections wherever possible.

"
- From Swagelok's Seal Support Systems Application Guide
---
Your plant has centrifugal or rotary pumps. The pumps have seals to protect their shafts. You want to make sure those seals last a long time. How do you do that? You could plan out a system of tubing, valves, drains and filters from scratch. But thanks to the American Petroleum Institute, you don't have to. The trade association has come up with dozens of piping plans recommended for shaft sealing systems on centrifugal and rotary pumps. They are gathered under the umbrella title Standard 682.

If you have a setup with a single seal, dual seals, quench seals or gas seals, API Standard 682 probably has you covered.
Typical plans
Let's say you have a pump in high-temperature service, and you want to reduce the fluid temperature to cool the seal or increase the fluid vapor margin. Go to Plan 21, and you'll see how to set up a system with a single seal, cooling unit, temperature indicator, vents and a drain.

Or you may have something more complex in mind, involving hazardous or toxic fluids. The API suggests Plan 52, a dual-seal setup where the outboard seal acts as a safety backup for the primary seal.

If you have a situation where you need an abrasives separator, an external flush stream, pressurized seals, unpressurized seals or a host of other factors, there's probably an API 682 plan that covers the situation.
Swagelok API 682 plan designs
Guided by API 682 : Pumps - Shaft Sealing Systems for Centrifugal and Rotary Pumps, Swagelok seal support system designs avoid pipe threads and limit the number of connections wherever possible. Based on the fourth edition, the standard design for each plan includes the minimum arrangement of components as detailed in API 682.
Swagelok Seal Support Systems are each designed for a specific mechanical seal and set of process conditions. These systems supply either a gas or a liquid to the mechanical seal to regulate the environment in which the seal operates, protecting rotating equipment from damage.

These systems have four main functions:
Provide lubrication to seal faces
Control pressure and temperature in the seal chamber and seal
Flush the seal of contamination and/or residue build up
Prevent system process fluid from leaking to atmosphere
---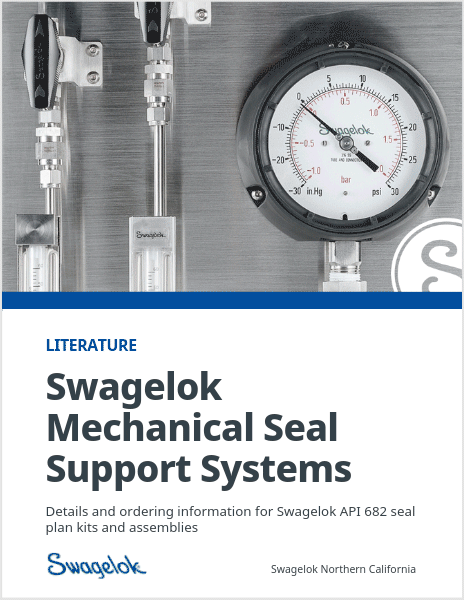 ---
Seal plan kits and assemblies
Seal plan kits (SPK) are a collection of components that are used to connect the seal support plan to the pump.

Due to the simplicity of the arrangement, the following API plans are detailed only as a kit of components that are ready for field installation. These kits include all the necessary components to complete the plan:
Process side plans: 11, 12, 13, 14, 21, 22, 23, 31, 41

Atmospheric side plans: 62, 65A, and 65B
Seal plan assemblies (SPA) are panels, seal pots, or skid systems that comprise the majority of the API seal support plan. Seal plan assemblies can be ordered alone or with the associated field installation kit to provide a standard installation for site personnel. The following plans are offered fully assembled with a corresponding field installation kit also available for connecting the assembly to the pump:
Process side plan 32

Between seal plans 52, 53A, 53B, 53C, 54, 55, 72, 74, 75, 76, and 72/76
Keeping track
Where do you begin when you want to match up a plan with your specific circumstances? One way is to call Swagelok Northern California. Because we deal with fluid systems on a daily basis, we can help steer you to the right plan for a particular pump. We can make sure you are providing all the protection you need without wasting money on systems that won't yield a benefit. We're easy to reach at 510-933-6200 or through our Mechanical Seal Support Systems page. Let us help you get started.
---
More like this: