Now Find Swagelok Parts Online Via eCatalog or Offline via eDTR
by Jeff Hopkins, on 1/18/17 8:30 AM
No matter how you want to browse Swagelok catalogs, we've got you covered
---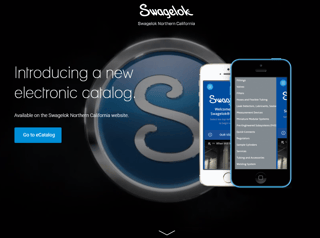 The new Swagelok eCatalog is live online and ready to help you quickly find what you need. All product catalogs and technical information in one place. Access it now »
---
Two easy ways
Thanks to modern technology, you no longer have to turn pages in printed catalogs to find the Swagelok parts you need. In fact, there are a couple of easy ways to quickly find what you want on your computer screen. Both are free, and both bring you the most current information. It's simply a matter of which way you prefer to get it.
Swagelok eDTR
We created our Electronic Desktop Technical Reference software to make it easy to browse Swagelok catalogs without even needing to be online. The eDTR software installs quickly onto your hard drive from a flash drive. Once it's installed, the eDTR lets you search by keywords, and shows you related components. You never have to worry about the literature getting out of date, because you can accept updates with a single click. You'll never have to wait for literature deliveries or quarterly CD-ROM revisions.
The idea for our eDTR software originated right here at Swagelok Northern California. It is available for PC via a USB flash drive or for iPad on the iTunes App store.
With the Swagelok eDTR and eCatalog, you can access Swagelok catalogs and technical information online and offline
Swagelok eCatalog
But perhaps you or your company would prefer not to install the eDTR on your computers or you do not have an iPad. No problem. We now also have all of the Swagelok catalogs online in our eCatalog.
Browsing the catalog online is easy. Start on the cover page and click the light-blue circle in the upper left corner. That opens up the links to the 15 sections in the catalog. Interested in regulators? Just click and you're there. You not only get the catalog of all the different series of regulators we carry, but you can also access all of the supporting technical resources.
The e-catalog has one extra feature. By clicking on a box right on the cover, you can watch 40+ short videos on a wide range of topics such as identifying thread pitch, selecting the correct hose end connections, and various assembly instructions. Get access to the Swagelok eCatalog here »
We always want to make it easy for you to find the parts, literature and advice that help you get top performance from Swagelok products. With eDTR and our eCatalog, you now have two ways to find what you need.
---
additional resources
---
get in touch
In a hurry or have a question? Please click here to get in touch - we respond fast! Or call 510-933-6200.
---