Swagelok in Action: A 'Quick' Fix to a Complex Problem
by Jeff Hopkins, on 8/10/16 9:00 AM
At Swagelok Northern California, we have a simple goal: to make it easy for you to do business.
No matter the complexity, size, or specialization of a customer project, our team confidently provides the parts and experience needed to handle it smoothly. With over 50 years of experience crafting assemblies, we've developed unique solutions for countless customer challenges.
SAMPLE COLLECTION CHALLENGES IN THE PETROCHEMICAL INDUSTRY
In crude processing, sample collection is key to ensuring a successful operation and high quality final product. Petrochemical companies require a variety of different gasses and liquids to be collected and accurately evaluated on a regular basis in order to achieve the proper balance and formulation for chemicals, fuels, and more.
INDUSTRY CASE STUDY: CHEMICAL AND PETROCHEMICAL
The Challenge: A Swagelok customer needed to reliably collect gas samples from their plant using sample cylinders, which would then be transported back to a lab via truck for testing and analysis. Technicians were utilizing Swagelok Quick Connect Parts (SS-QC6-D-4PF/SS-QC6-B-4PF) for sample collection, but the valve stem tips were routinely getting bent and damaged during the process.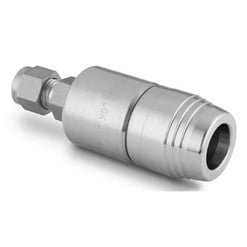 The Solution: Our Swagelok team determined that the valve stem tips were getting bent by both technical operations (the technician would unintentionally jam the stem tip into the body of the quick connect without aligning it properly) and transportation (the samples would accidentally fall or get jostled in the truck). We turned to our comprehensive Quick Connect inventory to find a better fit: an alternative Quick Connect from our QTM series.
The new part increased productivity and eliminated the problem of bent tips: its durable, recessed stem is never exposed to potential accidental damage. After extensive review and analysis, including hands-on testing with the engineering department, our customer updated their entire inventory of 200 complete cylinder sets with new QTM2 Quick Connects. Not only was the problem solved, but they also gained larger flow capacity for improved sample collection and efficiency.

Swagelok Assembly Solutions
The team at Swagelok Northern California offers a vast catalog of parts in addition to ample assembly expertise. We believe in high value with no excuses and no exceptions — no matter how tricky a problem may seem. Reach out to our team today to discuss potential solutions for your assembly challenges or download our new eBook to learn how our Assembly Solutions team can help take your business to the next level.