Small Bore Tubing Equals Big Savings Over Pipe
by Jeff Hopkins, on 11/13/19 1:00 PM
Cut installation labor costs as much as 66 percent, and save still more on operation
---
"Tubing is simpler, lighter, easier to install, and has fewer potential leak points; it also costs less when you factor in tools, labor, and maintenance."
- From Small Bore Tubing Solutions
The installed cost of a fluid system is only part of its total expense. If you want to eliminate unexpected spending over time on your lube systems, pneumatic systems, process control, pumps and compressors, purge systems and more, it takes proper planning and attention to detail.
Many companies use tubing systems in applications 12 mm (1/2-inch) diameter and under, while pipe continues to be the traditional choice for applications ranging from 19 to 50 mm (3/4-inch to 2-inches). Tradition, however, comes with added costs. Small bore tubing can offer a significant advantage over the life of an application.
The problems with pipe
Pipe is much thicker than tube of the same inside diameter. Both contain pressure equally well, but pipe is thicker simply to provide enough material for threads to be cut.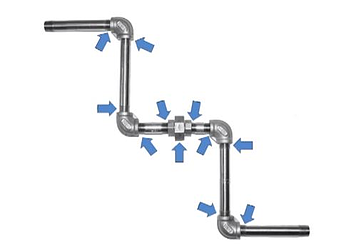 Consider the work associated with building or repairing pipe systems: First you must identify the series of twists and turns to run the pipe from one point to another. Each bend comes with a new joint in the system, which means threading, cutting and fitting, or welding. To get that job done, you must have all the necessary materials at the ready—pipe stands, dies, cutting oils, sealants, tapes, and more. Welding requires hydrostatic testing and can introduce moisture into the system.
All of this precedes the actual installation. Assembling pipe requires initial cuts, de-burring, then cutting threads, followed by fitting the sections together. Any time a line must change direction, a new fitting must be introduced to the system, and each fitting is a new potential leak point.
Small bore tubing—tube with an outside diameter of 50 mm (2") or less—can overcome these inefficiencies. Tubing offers a much more efficient strength-to-weight ratio than comparable pipe. The labor associated with tubing is also significantly less. No threads need to be cut. There is no need for oils, sealants, dies or other complicated equipment.
Like pipe, tubing must be cut and de-burred, but the similarities end there. Directional changes in tubing are made by simple bending. This eliminates the need for extra fittings while also eliminating system turbulence and pressure drop points. And because welding is not required, tubing systems are ideally suited to hazardous areas and confined or hard-to-access spaces.
It's true that small bore tubing is more expensive than pipe, but it doesn't involve the extra expense of working with pipe. Tubing also takes a fraction of the time to install. The savings can add up quickly.
A tubing system is inherently more efficient due to minimized pressure loss, greater vibration resistance, and less susceptibility to leaks.
Getting started with small bore
Small bore tubing can deliver superior performance only when it's installed correctly. Installers must understand the right way to handle and bend tubing, and use the right equipment to ensure a successful system. They must know the correct methods for routing a line, and how to install fittings in the approved manner.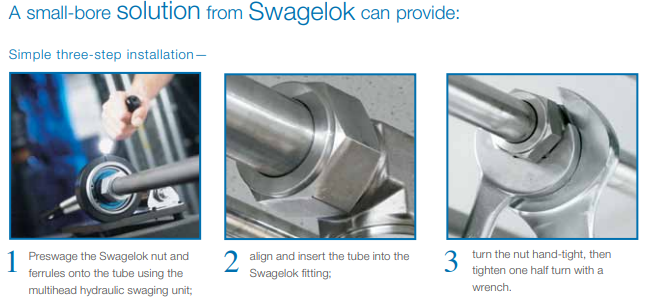 It's also important to avoid mixing and matching tube and fittings, valves, and other components from a number of different suppliers. It's best to standardize your inventory as much as possible by sourcing critical components from a single manufacturer. You'll ensure that the parts have been specifically engineered to work together.
When you consider a switch from pipe to tubing, keep these three things in mind:
Thorough, appropriate training for your installers will ensure that your new small bore application will be installed and maintained correctly, with the proper techniques and accounting for all necessary safety precautions.
Some specialized tools, such as a tube bender, are required for correct installation.
The total system —tubing, fittings, and tools — must be designed to work together to ensure a reliable, leak-free, low-maintenance system.

---
Just ask
When exploring a new area, it's always good to have an expert to guide you. Swagelok has been the expert in tubing and fluid systems for 70 years. Whether you have a simple question or a complex challenge, we're glad to hear from you.
---
More like this: