Swagelok For Chemical And Petrochemical Industries
by Jeff Hopkins, on 2/17/16 7:15 AM
Built for extreme conditions, Swagelok® components help you optimize mission-critical processes and analytical instrumentation systems.
Get selected resources for Chemical and Petrochemical industries pros here »
---
Built for extreme conditions, our components help optimize critical processes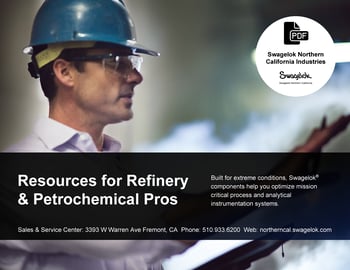 The San Francisco Bay Area is home to five major oil refineries and numerous chemical manufacturers and testing labs. All of them need components that will stand up to complex processes and increase the reliability of sophisticated analytical instrumentation systems. Swagelok fluid system products are specifically designed to optimize the performance of analyzer systems and help minimize safety concerns, costly leaks, and unnecessary maintenance, downtime, and reworks.
Advantages for the chemical Industry
Excellent gas-tight sealing and consistent reassembly help ensure your chemical plant systems operate efficiently. The Swagelok tube fitting was patented and brought to market in 1947, resolving problems the refining and petrochemical industries had in making repeatable, reliable leak tight connections on process instrumentation systems. The patented case-hardening process and back-ferrule geometry produce an excellent colleting grip of the tube, minimizing the effects of vibration.
Because this design uses consistent geometry instead of torque for gaugeable make-up, the Swagelok tube fitting can be used on a range of thick- or thin-walled, hard or soft tubing, while resisting the effects of pressure and thermal cycling. Swagelok tube fittings minimize fugitive emissions, as well as reduce process fluid leakage and operation costs.
Training for steam system optimization
Our Refinery & Chemical Steam System Reliability, Safety, and Optimization training course reviews all aspects of a refinery/chemical steam system and is designed to provide you with a solid understanding of steam system management. We cover topics such as heat transfer, steam leakage, steam tracing, steam turbines, steam and condensate piping, safety, and steam system mass balancing. Everyone in the class works in a group to accomplish different tasks relating to a steam system.
Application support
We offer knowledgeable support with technical information, product selection, and fluid system design. That includes:
• Applications engineering
• Technical drawings
• Product substitutions
• Prototyping services
• Technical product support
Front end processing
We can help you meet the challenges of installing and maintaining process instrumentation systems. That includes optimizing the number of engineers on staff, minimizing or eliminating leaks, improving measurement quality and consistency, transitioning to wireless technology, reducing the amount of maintenance needed, and more.
Back end sampling
Swagelok Northern California can help you minimize flow volume for faster response, maintain sample purity, ensure data reliability, reduce your sampling footprint, increase system uptime, minimize leaks, and meet the growing demand to reduce maintenance time in analytical sampling systems. For maximum measurement integrity, build a high-performance process instrumentation system with all Swagelok fluid system components.
Energy Management Services
It takes special expertise to keep a steam system safe and reliable, expertise that gets harder to find with each passing year as more people retire. Fortunately, you can still find it at Swagelok Northern California.
An easy way to explore our energy management services is with a free phone consultation. We can tell you about our steam evaluations, how to calculate the true cost of steam, and help identify which areas of your steam system need some help. Then you may want an on-site visit from a Swagelok engineer. He can look at a specific problem, such as a valve that keeps failing for unknown reasons. Or it might involve steam traps, leak detection, or an evaluation of your condensate system. You'll get a report on how to fix the specific problem, plus suggestions about what else to look for in your system and a roadmap for how to implement the recommendations. It is a chance to open a window into your steam system and uncover cost savings, explore opportunities for improvement and gain from the experience and capabilities that our engineers bring to the table.
Get selected resources for Chemical and Petrochemical industries pros here »

Let us know what other fluid system resources we could provide to help you do your job in the comment section below.
Additional Resources