Swagelok for the Semiconductor Industry
by Jeff Hopkins, on 2/17/16 8:15 AM
At Swagelok Northern California, our Semiconductor solutions offer consistent reliability and cutting-edge fluid system technology backed by time-tested technical expertise. Each product is meticulously engineered to offer security, assurance, and the extra advantage you need to push the boundaries of innovation. Get selected resources for semiconductor industry pros here »

Components, services, and expertise that have you covered from the source through the exhaust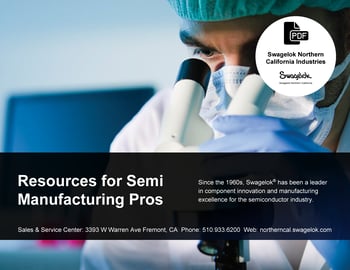 Swagelok Northern California has been serving Silicon Valley since before it was called Silicon Valley. We've watched the semiconductor industry go through generations of growth and greater sophistication. As manufacturing systems became more and more demanding, Swagelok has responded with parts that could meet the tougher demands.
Today Swagelok fluid system components and solutions are used throughout semiconductor manufacturing. Starting at the source where chemicals enter the system, Swagelok parts give you greater thermal control, prevent contamination, and promote safe containment. In the gas box, Swagelok means a short purge time, long service life, and the ability to switch chemical delivery with optimal control. At the point of use, Swagelok allows you to achieve precision high temperature chemical delivery, greater dosing accuracy, and cleanliness. At the exhaust stage, Swagelok helps you purge excess chemistries, maintain optimum pressure, and command efficiency.
Success stories
When Cambridge NanoTech Inc. first started manufacturing atomic layer deposition (ALD) systems in 2003, the company was experiencing downtime due to underperforming valves. To extend the life of Cambridge NanoTech's ALD gas delivery assemblies, the company tried the Swagelok ALD valve—with great success. Our pneumatically actuated ALD diaphragm valve has won praise from Gases and Instrumentation magazine for the valve's cycle actuation time of less than 5 milliseconds, and a cycle life of more than 25 million cycles
We know that offering high-quality components is only part of the story. The components have to get to the customer when the customer wants them. It's worth noting then that Swagelok has received Lam Research's Supplier Excellence Award for outstanding performance, commitment, and collaboration.
Training & education
Swagelok components perform best when the customers know how to get the most out of them. We help customers improve safety, increase productivity, and keep abreast of the latest fluid system technologies with our comprehensive customer training and education programs. They include:
▪ Tube fitting safety seminars
▪ VCR metal gasket face seal fitting Installation
▪ Tube bending seminars
▪ Introduction to gas system components
▪ Valve selection training
▪ Valve installation and maintenance training
Leak-tight solutions for photovoltaic
Swagelok supports the photovoltaic industry with fluid system products and services designed for the supply side. From springless diaphragm valves to bellows valves, and check valves to tube fittings, Swagelok provides leak-tight solutions for this growing industry.
Swagelok has also introduced the Swagelok Specification SC-06, the first PV-specific guideline for stainless steel components.
Application support
Swagelok Northern California can help you pick the right products for semiconductor manufacturing, collect detailed technical information and CAD models, engineer custom parts for new processes, and more. We offer:
• Applications engineering
• Technical drawings
• Product substitutions
• Prototyping services
• Technical product support (call 510-933-6200)
Assemblies & subassemblies
Our team of certified assembly technicians can build assemblies or subassemblies using Swagelok components, as well as other system components, to meet your design specifications. All are pressure or leak testing before delivery, and all are backed by the Swagelok limited lifetime warranty.
Get selected resources for semiconductor industry pros here »
Let us know what other fluid system resources we could provide to help you do your job in the comment section below.
Additional Resources