We help UC Santa Cruz teach a new generation of scientists and engineers
---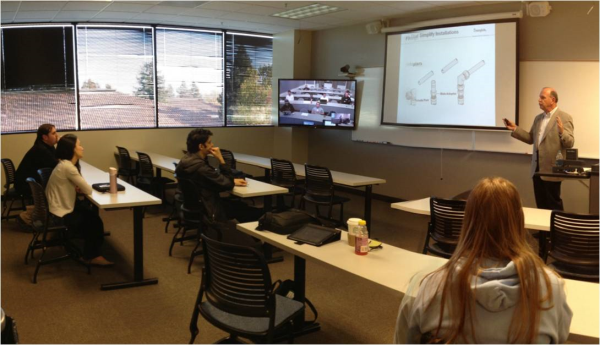 Swagelok Northern California's retired trainer, Mike Valentine taught graduate students at U.C. Santa Cruz's Silicon Valley campus about fluid system components used in semiconductor manufacturing. You can learn more about Swagelok education and training here »
---
Learn from an expert
Before he retired, Mike Valentine, account manager and trainer, got a chance to discuss Swagelok products with a different kind of audience. The last few years before his retirement, he spent an afternoon each spring as a guest lecturer, explaining the theory and application of Swagelok components to engineering graduate students from UC Santa Cruz.
The opportunity came about as an invitation from Dr. Michael Oye, a professor of electrical engineering at UCSC and former associate director of the Advanced Studies Laboratory (ASL). The ASL was a partnership between UC Santa Cruz and NASA Ames Research Center to foster collaborations between Academia, Government, and Industry (partnership ended November 2016).
Second hand learning
Remembering his own days as a graduate student, Oye wanted to get a new generation of scientists and engineers off to a stronger start than he had. "I first learned about parts selection second-hand from senior grad students back in the '90s, so I never had an opportunity to interact with the people who know best until I moved up to the Bay Area," Oye said.
Junior graduate students tend to accept what they are taught by senior graduate students as "law." Then the junior graduate students eventually become senior graduate students and pass along the same information. Some of that information is simply wrong, Oye said, and it has been one of his pet peeves for years.
"I'm an experimentalist by trade. I'm in the lab and always putting together parts for gas handling and vacuum systems. Because of that I know of Swagelok."
Word of authority
To break the cycle, Oye invited Valentine to talk about Swagelok parts and how to select them. He also explained the right way to install them. Regular readers of our blog already know that Swagelok makes a wide variety of valves. Valentine explained the different kinds and the applications they are best suited for. The students also learned to watch out for reactivity between valve components and the fluids being sent through the line.
Even something as simple as properly tightening a fitting has to be learned. Valentine showed the right way and some wrong ways, and the kinds of failures that result from improper installation.
"In order to be able to conduct research, we need Swagelok parts," Oye said. The better the students understand the components and how to use them, the better their research projects will go. Now when the students go back to the lab and tell colleagues how to properly use a Swagelok part, they can speak with authority.
Lastly, Valentine showed some of the products used in semiconductor applications like Atomic Layer Deposition and 1-1/8" Modular Gas Systems.
The students are not all going to go into research, Oye noted, so it's useful to get an early look at the Modular Platform Components (MPC) they may encounter in the field. "When they go into a company and see this, they know what it is," Oye said. "Or if they don't see it, they know they could use it as an efficient way to minimize the dead space in their parts."
Long distance learning
Video conferencing technology allowed three different groups of people to attend Valentine's guest lecture. About one-third of the students were seated in the room at UCSC Silicon Valley Center. Another third watched on monitors from Santa Cruz. The final third watched online. It was a fully interactive experience. Cameras were pointed at both the students in Santa Cruz and at Valentine so that they could see one another. Live microphones in the classrooms made it easy to ask questions no matter where the students were located.
Swagelok is the only company that Oye has asked to send a representative for this class. It's important to learn the theory of gas flow and the equations that govern it, he said, but it's also valuable to know practical elements, such as the fact that any bend in a tube will create a pressure drop.
"I'm an experimentalist by trade. I'm in the lab and always putting together parts for gas handling and vacuum systems. Because of that I know of Swagelok," he said.
Training at our place or yours
Swagelok Northern California offers tube bending and tube fitting safety training once per quarter at our Fremont facility taught by Swagelok certified instructors. Need to train six or more people? We will bring the training to your facility. Learn all about Swagelok training.
We also hold seasonal courses like our Swagelok Orbital Welding training on August 21-25. Learn orbital welding training from Swagelok certified instructors and prep test samples for ASME Section IX Weld Qualification.
Want to talk to someone from our team about Swagelok training? Contact Us!
---
additional resources
---
get in touch
In a hurry or have a question? Please click here to get in touch - we respond fast! Or call 510-933-6200.
---