Case Study: Miners Get An Extra Margin Of Safety
by Jeff Hopkins, on 6/15/16 8:00 AM
Get the details on this success story and how Swagelok Northern California can help your fluid systems succeed at http://northerncal.swagelok.com/success
Swagelok reliability makes Fresh Air Bay a top choice in refuge shelters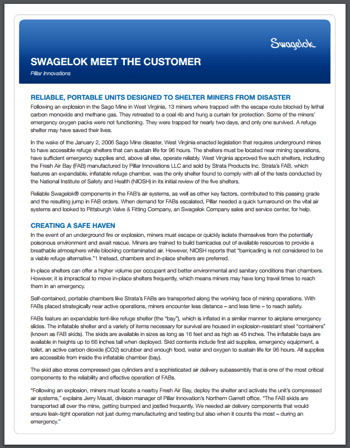 When an explosion trapped 13 coal miners in the Sago Mine in West Virginia, they retreated further into the mine and set up a curtain for protection from poisonous gasses. But some of the miners' emergency oxygen packs didn't work. They were trapped for nearly two days, and only one miner survived.
In the wake of the disaster, West Virginia passed legislation that requires underground mines to have accessible refuge shelters that can sustain life for 96 hours. They must be stocked with emergency supplies and, above all else, operate reliably.
One of the five approved designs, the Fresh Air Bay manufactured by Pillar Innovations LLC and sold by Strata Products Inc., was the only one found to comply with all of the tests conducted by the National Institute for Occupational Safety and Health in its initial review.
Reliable Swagelok components contributed to the Fresh Air Bay's passing grade and a resulting jump in orders. Pillar Innovations needed a quick turnaround on the vital air systems and looked to Pittsburgh Valve & Fitting Company, an Swagelok sales and service center, for extra help.
Safe haven
A Fresh Air Bay is a tent-like refuge shelter (the "bay"), which is inflated much like an airplane emergency slide. The inflatable shelter and a variety of items necessary for survival are housed in explosion-resistant steel containers. The survival contents include first aid supplies, emergency equipment, a toilet, an active carbon dioxide scrubber and enough food, water and oxygen to sustain life for 96 hours.
Some of the most critical components are compressed-gas cylinders and a sophisticated air delivery subassembly.
"We needed air delivery components that would ensure leak-tight operation not just during manufacturing and testing but also when it counts the most – during an emergency," says Jerry Maust, a division manager of Pillar Innovation.
Pillar asked Pittsburgh Valve & Fitting to investigate component solutions for the four air systems used with the shelters. Pittsburgh V&F picked out the right variety of Swagelok tube fittings, VCO O-ring face seal fittings and tubing.
"The leak integrity of Swagelok products is especially important because this high-pressure application needs to be pressurized with a very minimal leak rate for a period of five years," says Michael Bishoff, a mechanical engineer for Pillar Innovations.
Pillar Innovations had Pittsburgh V&F assemble more than 380 air system subassemblies. Later, Pillar placed an order for 63 additional units. The combined orders called for a total of 4,873 tube fittings, 1,772 VCO fittings and 25,251 lineal feet of tubing. That included many components made of alloy 400, a material that can withstand a fire in pure oxygen.
A custom solution
Pittsburgh V&F handles full fabrication and testing of the air system subassemblies in its 2,500-square-foot, multilevel shop. To speed up production and ensure a proper, uniform fit when the subassemblies reach Pillar for installation, Pittsburgh V&F created a custom assembly jig with a separate plate for each of the four air lines. All measurements are clearly marked to ensure that the tubing is bent and angled to precise specifications for each system.
Before air system subassemblies leave Pittsburgh V&F's shop, they are carefully tested to ensure no leaks are present. The company created a custom testing apparatus that enables technicians to test up to four subassemblies at a time. In less than 20 minutes, four subassemblies can be mounted and connected to a gas line on one end and an exhaust hose on the other. Pittsburgh V&F, then purges each subassembly with air before piping in a mixture of 30 percent helium and 70 percent compressed air.
Pittsburgh V&F has had as many as 30 subassemblies ready for delivery to Pillar at one time. The company is able to load a van with 12 units using custom-fabricated boards that protect the units during transport. When demand was at its highest, Pittsburgh V&F made deliveries every week to keep up with Pillar's production schedule.
While West Virginia is currently the only state to require refuge alternatives in active underground mines, mine operators in other states are adding Fresh Air Bays to their operations as well.
For details on the Fresh Air Bay, including a closer look at each of the four high-pressure air systems, click here. Then think about the fluid systems you rely on to keep your own company safe and healthy. Swagelok Northern California can show you how to get optimal performance.


Additional Resources