Swagelok Valves for Instrumentation and Process Applications and More
by Jeff Hopkins, on 5/4/17 8:00 AM
Swagelok offers dozens of Instrumentation and process valves and manifolds including: Ball, Bellows-Sealed, Bleed and Purge, Check, Diaphragm-Sealed, Excess Flow, Manifold, Metering, Modulating, Needle Shutoff and Regulating, Plug, Relief, and Stream-Select Valves. Get an overview at
http://northerncal.swagelok.com/valves »
We have what you need for flow control, process protection, or just on-and-off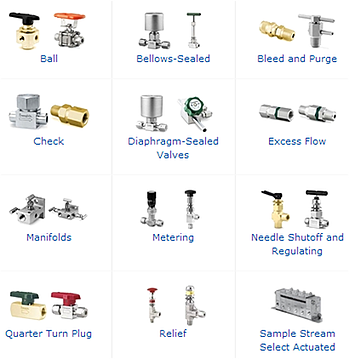 The starting point for valve selection is a basic question: What do I want the valve to do? Is it simply an on-off function, or do you need to control the flow? Do you need to control a thick fluid, a thin fluid or a gas? Do you need to make sure the fluid goes in only one direction?

Whatever you need, it takes only a click to reach all of Swagelok's valve catalogs and the Swagelok Valve Sizing Technical Bulletin.
On-off
For simple on-off control, the main choices are ball, plug, diaphragm, and bellows valves.

Ball valves, perhaps the most common of all valve types, can turn the flow on and off with just a quarter-turn of the handle. Swagelok's 60 series ball valves are designed for reliability and low maintenance. If you need to shut off high pressure and open it again, you might want the extra internal support of a trunion ball valve. Our specialty lines include our AFS ball valves for alternative fuel service.

Swagelok electric actuators can be used to control the position of many Swagelok ball valves, and we also have rack and pinion pneumatic actuators, solenoid valves, and limit switches

We have diaphragm valves for general, high-purity, and sanitary service. The LD Series is designed for shutoff, bulk-gas distribution, and isolation service. Our DP Series is suitable for ultrahigh-purity applications, and they now come with replaceable seats in our DPX Series. If you are looking for packless, all-metal containment, that's our DL Series and DS Series.

The semiconductor industry relies on our atomic layer deposition (ALD) diaphragm valves, with their ultrahigh cycle life with high-speed actuation. The valve opens to let a fine dose of reactive gas to sit briefly on the surface of the silicon wafer, then purge it, properly preparing the wafer to be etched. By "briefly," we're talking about only a few milliseconds. Swagelok was first to market with ALD valves more than a decade ago, and other manufacturers are still trying to catch up.

We also have the DRP Series of ultrahigh-purity fluoropolymer diaphragm valves, the DR Series of radial diaphragm valves, and the DF series of high-flow, springless diaphragm valves.

Our basic bellows valve is the B Series. Our BM Series of bellows-sealed metering valves features a micrometer handle for precise, repeatable flow settings. There are still other series of bellows valves for when you need a compact size, or a secondary containment system above the bellows, packless valves with an all-metal seal, and three-valve manifolds.
Flow control
Sometimes you need the flow to be somewhere between fully on and fully off. For that function, a needle valve is a great option. Some applications require a valve that ensures flow in only one direction. That's the time for a check valve. In most designs, the upstream fluid force cracks open a poppet, allowing flow. When there's an increase in the downstream back-pressure force, the poppet is forced back into its seat, preventing reverse flow. We have models with adjustable and fixed cracking pressures.
Still more options
For overpressure protection, the R Series proportional relief valve can be set a pressures from 10 to 6000 psig (0.68 to 413 bar). To stop uncontrolled release of system media if a downstream line ruptures, look into our XS Series of industrial excess flow valves.

There are more options than we have room to describe here, but our catalogs will give you the details on bleed valves and purge valves, metering valves, process interface valves and manifolds.
Sizing
Swagelok's Valve Sizing Technical Bulletin is an excellent tool showing how flow can be estimated 
well enough to select a valve size—easily, and without complicated calculations.
Additional Resources