The Best Gas Panel Design Configurator Alternative for Bay Area Industrial Plants
by Malik Durojaiye, on 6/10/21 9:00 AM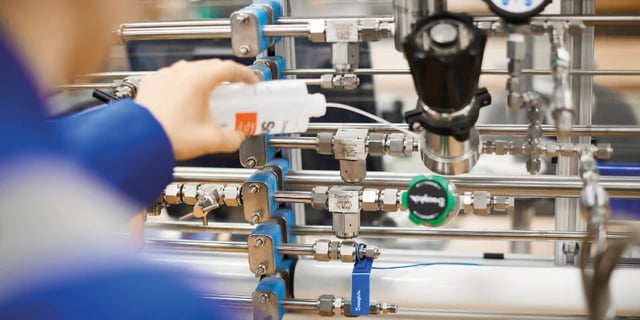 Gas distribution systems are widely used in many facilities in industries such as petrochemical, semiconductor, and biotechnology. These systems must safely and effectively deliver gases from a high-pressure source to the end process at a specified flow rate and pressure given by each application. The gas panel is the primary pressure control point in a gas distribution system. Utilizing a custom gas panel design can greatly simplify operations by standardizing procedures around gas distribution systems if designed and configured properly.
The challenge is not the lack of software capability to custom configure a gas panel—especially since most 3D modeling software can be used to create a custom gas panel design. It is knowing the best practices for gas panel design and implementing them in a functional, efficient, and safe manner. Gas panels are a critical subsystem to gas distribution systems and they must be designed with careful consideration for the specific application.
Best Practices for Gas Panel Design
As the primary pressure control point, gas panels must reduce the pressure from the gas cylinder such that the gas is delivered to the point of use at the correct flow rate and pressure. This point of use may be an analyzer, process equipment, or a laboratory. Gas pressure control is affected by two parameters:
Droop

: indicative of the loss of outlet pressure as flow demand increases.


Supply pressure effect: indicative of the change of regulator outlet pressure as a function of change in inlet pressure, cylinders being drained is a common example of it mattering.
These factors should be considered when selecting a pressure regulator for a gas panel design, along with proper calculation of pressure and flow rates. Gas panels should also be designed to accommodate process changes and to promote safety.
Selecting the Right Pressure Regulator
Pressure regulators in gas panels reduce the pressure of the gas supplied from a high-pressure cylinder to a workable level that can safely operate at the point of use. When designing a gas panel, a choice should be made between a single-stage and dual-stage regulator. These regulators have different droop characteristics and respond differently to changing supply pressures. Thus, it is important to consider these differences and choose the appropriate regulator for the gas panel.
| | | |
| --- | --- | --- |
| Regulator | Characteristics to Consider | Applications |
| Single-Stage | Single-stage pressure regulators reduce cylinder gas pressure within a set range for a given application in one step. These pressure regulators typically show little droop with varying flow rates and experience a relatively large supply pressure effect. | Implementations where constant outlet pressure is not critical, there is little inlet pressure variation, or intermittent readjustment of delivery pressure is not problematic |
| Dual-Stage | Dual-stage pressure regulators reduce cylinder gas pressure in two steps. These pressure regulators typically show a steeper slope in droop and minimal supply pressure effects. | Implementations that require constant outlet pressure throughout the entire lifecycle of the gas cylinder |

Proper Calculation of Pressure and Flow Rate
Within the petrochemical, semiconductor, and biotechnology industries, a wide variety of gases are used. These gases range from common gases like nitrogen, carbon dioxide, oxygen, propane, argon, hydrogen, propylene, and helium to exotic gases like phosphorus trifluoride, bromine, and titanium tetrachloride. The required flow rate and pressure must be calculated based on the gas type and process aspects of the application. This calculation is vital for proper gas distribution system functionality and helps determine the sizing and type of gas pressure regulator that should be used. Consulting a fluid systems expert can be valuable to ensure the right pressure regulator is selected.
Design to Accommodate Process Changes
As process changes are likely to change over time, it is good practice to design gas panels with this in mind. Pressure controls can be sized to accommodate a wider range of flow rates and pressures to allow for flexibility in the future to meet different process requirements as they arise. This can eliminate the need to swap out or modify existing components in the event of changing process conditions. However, the panel's ability to deliver gas at the required flow rate and pressure may be jeopardized if the range is stretched too far.
Design to Promote Safety
Many gases used in gas distribution systems can pose a threat to the environment as well as employees if a leak occurs. Special fittings, such as compression fittings, can be used to reduce the risk of leakage but fitting types may be dependent on industry and local regulations. All components must also be rated to meet the pressure and temperature requirements of the process. Additionally, all pressure control components, including associated valves, should be sized to tolerate the full range of determined flow rates and pressures. Gas panels should feature clear labeling and visibility of critical components to ensure ease of maintenance to prevent user error which can lead to leakage and unplanned downtime.
The Best Alternative to Gas Panel Design Configurator
While utilizing a gas panel design configurator can be an appealing option, this should be done in cases where the facility has a highly knowledgeable process and fluid engineers with experience designing gas panels. The sure way to a well-designed and configured gas panel design is through collaboration with local gas panel design experts who have experience and expertise designing gas panels for the wide variety of applications in the petrochemical, semiconductor, and biotechnology industries.
Properly designed gas panels are crucial for the reliable, safe, and precise distribution of industrial gases to end-process applications. Swagelok Northern California has decades of experience in gas panel design for a wide variety of applications. Our Field Engineers will conduct an on-site analysis of your gas distribution requirements and can create a standardized package using an online gas panel configurator perfectly suited to your needs. Swagelok gas panels are fully assembled and tested in-house to ensure they are ready to install as soon as they arrive.
To find out more about how Swagelok Northern California can help you by designing a standardized package using a gas panel design configurator, contact our team today by calling 510-933-6200.
---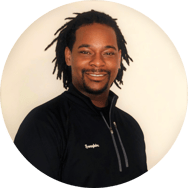 About Malik Durojaiye | Field Engineer, Assembly Services
Malik Durojaiye began his Swagelok career in 2019 as a Custom Solutions Engineer in our Assembly Services group. Prior to Swagelok, Malik developed as a design engineer as well as a manufacturing engineer for 6 years serving Kentucky and California with Altec Industries; a leading provider of products and services to the electric utility, telecommunications, tree care, lights and signs, and contractor markets.