The Mechanical Seal Installation Considerations You Can't Miss
by Paul Lesnau, on 7/9/20 8:45 AM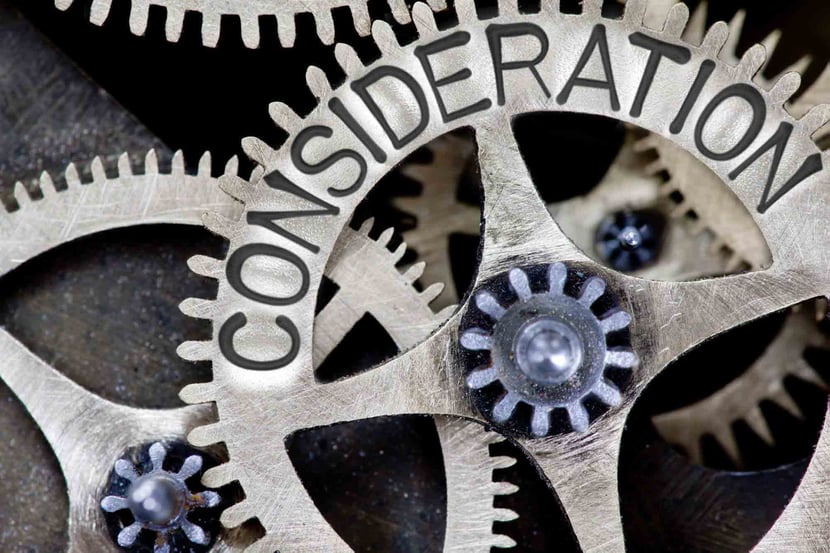 You've poured over the manuals, checked a few extra things online, and now you think you're ready to finally install that mechanical seal. You can just follow the directions and it will look fine. For now. But did you consider this: why and how you install the new mechanical seal has a direct bearing on its potential lifecycle.
Right now, with Bay Area petrochem refinery budgets being so lean, it's an important thought to ponder—especially in Northern California where many are at least partially idled. Take a little time to mull any details you might have missed before installing that new mechanical seal. You can start with just three basic questions about mechanical seal installation that can have a positive impact on seal life.
Consider These Factors Before Any Mechanical Seal Installation
It's fairly straightforward to implement some of the most proactive, cost-effective steps in extending seal life to reduce downtime and the associated costs. Simply put, you need to pay attention to the importance of ensuring mechanical seal installations are matched with the appropriate seal support systems. Often, aging systems, changing process conditions, or outdated maintenance procedures result in a mismatch that shortens the lifecycle.
Per API 682, the expected life of a mechanical seal is three years. Your mileage may differ—but you do have some control over it and it's always preferable to reach for a longer lifecycle when possible. The answers to the following questions can help you do just that.
#1 Could An Upgraded Seal Support System Have Prevented The Need For A New Seal Installation?
If a pump seal has failed prematurely, scrutinize some of the factors that could have led to its earlier-than-expected demise. It's often the case that the existing seal support system didn't provide the proper seal chamber environment for the process. There are generally two reasons behind this.
1. Changing process conditions
This may include an increased process fluid temperature that exceeds the capacity of the current system to provide the required seal chamber environment. Increased temperature can damage elastomeric components. Nitrile and ethylene-propylene components, for instance, are rated at a maximum of 120° to 150° Celsius. When the temperature rating is topped, you'll see flashing across seal faces or the lapped seal faces distorted. Both lead to leakage.
⇨ Solution: Failure induced by higher process temperatures can be remedied in several ways. Seal support system cooling capacity can be increased with a cooling coil or heat exchanger by upgrading from API Plan 14 to API Plan 21 (cooled flush) or API Plan 23 (cooled flush recirculated through seal chamber) to more efficiently remove heat from the seal chamber.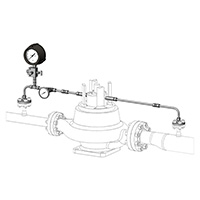 API Plan 14
⇩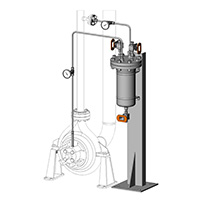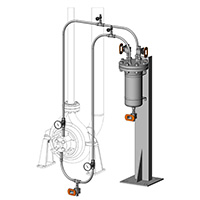 API Plan 21 API Plan 23
2. Increased particulates in the process fluids
This is likely the result of a change to process fluids with a higher particulate concentration or the effects of corrosion in the supply piping due to increased process temperatures. Particulates become embedded in the seal faces, increasing friction and thereby degrading the seal's reliability.
⇨ Solution: Problems with particulates can be easily resolved. The addition of a filter with an optional bypass loop provides a continuous supply of flush fluid whenever the filter is cleaned or changed. Alternatively, a cyclone strainer (API Plan 31) to remove larger quantities of particulates and direct clean fluid to the seal chamber may be more efficient.
Often a relatively simple addition to or upgrade of a seal support system can significantly extend mechanical seal life. In consideration of the current economic challenges and restricted budgets, finding the most cost-effective means to extend asset life is prudent.
#2 Does Your New Pump Have the Right Seal Support System?
If you're about to install a brand new pump with a new mechanical seal, it's worth considering whether the seal support system sufficiently meets the current process requirements. With dozens of API plans, each with a range of optional components and configurations, selecting the right plans for a variety of process requirements can be a time-consuming challenge.
Here's where the experience and expertise of a seal support system specialist may save you time. They can ensure that the seal support system exactly matches your process requirements and is properly configured to maximize mechanical seal life.
#3 Have You Considered Seal Support Maintenance Efficiency?
Along with providing the proper seal support system to meet the process needs, the overall design of the system should facilitate easy access and maintenance. Retrofitting new seal support systems into the existing infrastructure of older Bay Area refineries may require certain accommodations. For example, special tubing and tubing support configuration or integration with existing plant gas or water supplies may be needed when installing between seal or atmospheric side plans. Tubing design needs to ensure optimal flow and be accessible to maintenance personnel.
Similarly, vents, flowmeters, and temperature and pressure gauges should be located for easy, safe access by maintenance and operations personnel. In certain instances, a customized, pre-configured skid may offer the easiest installation option and ideal ergonomic design to streamline all maintenance activities.
Don't Miss The Opportunity To Extend Seal Life
For decades-old refineries with hundreds to thousands of pumps in any one refinery, replacing failed seals may seem like the fastest way to remedy leaks. However, any mechanical seal installation is an opportunity to consider and mitigate any factors that negatively impact seal reliability, and Swagelok is here to help you make the most of that opportunity.

Swagelok's convenient proximity to Bay Area refineries—with facilities in Fremont, Concord, and Santa Clara—makes the process of properly matching seal support systems to mechanical seal installations easy. Our Field Engineers can consult on-site or via a virtual engineering appointment to carefully consider your process conditions and existing infrastructure and determine whether an additional component or seal support system upgrade is the most effective means of extending mechanical seal life.

Based on our assessment, we'll provide you recommendations regarding component and system upgrades, including detailed technical specifications. Upon your approval, we'll select the components, fabricate and assemble the system according to ISO 9001 quality control standards, and thoroughly test your seal support systems prior to delivery.
To find out more about how Swagelok Northern California can help extend the life of mechanical seal installations by providing expert seal support system consultation, custom design, and Assembly Services, contact our team today by calling 510-933-6200.
---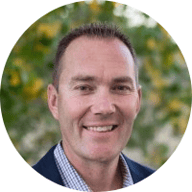 About Paul Lesnau | Sales Manager, Business Development Manager, and Field Engineer
Paul holds a B.S. in Mechanical Engineering from North Dakota State University. Before joining Swagelok Northern California, he was the West Coast Regional Sales Manager for an organization based in Illinois involved in pneumatic and hydraulic applications where he supervised product distribution throughout the western United States, Canada, and Mexico. While in this role, he was able to help provide technical and application-specific expertise to customers and distribution to drive specifications.