There's Nothing Like a Set of Well-Fitting Threads
by Jeff Hopkins, on 3/30/16 8:00 AM
Watch the Swagelok Tech Clip "Identifying Thread Pitch and Size" and Access the Swagelok Thread and End Connection Identification Guide at
http://northerncal.swagelok.com/thread-identification
Here's how to make sure you'll always pick the thread with the right size and pitch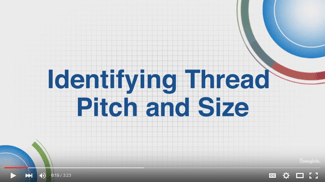 Swagelok fittings, valves, regulators and other components have one thing in common: threads. If the threads on two parts don't have the identical diameter and pitch, you can't connect them. So how can you tell if everything is the right size? We're glad you asked.
The basics
Threads have peaks (called crests) and valleys (called roots). The part in between the crest and the root is called the flank.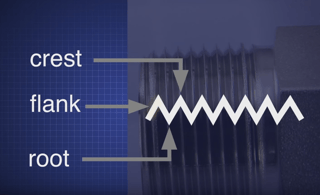 Threads also come in two basic types, straight or tapered. On straight threads, the crests are all the same diameter. With tapered threads, the crests at one end have a smaller diameter, like a wedge. In fact, a tapered thread is essentially a wedge wrapped around a cone. If you are working with Swagelok parts, it's easy to tell the difference: All fittings are stamped to tell you if they are tapered or parallel.
But you also can check it yourself. Use calipers to measure the outside diameter on the first, fourth, and last full threads. If you get three different measurements, you have tapered threads. If the measurements are the same, you have straight threads.

Here's the pitch
The space from crest to crest is the pitch, which usually is expressed as threads per inch. Straight threads come in three standard kinds of measurements. The most common are SAE (Society of Automotive Engineers), ISO 228/1 (also known as British Standard Pipe Parallel), and metric.
Tapered threads also have several standard forms of measurement: NPT (National Pipe Thread), ISO 7/1 (also known as British Standard Pipe), and metric.
The flanks can come in different angles, known as Whitworth, unified or metric.
Some people are surprised to learn that straight threads are not designed to seal on their own. They require a gasket, O-ring or some kind of metal-to-metal contact to finish the job.
Tapered threads are designed to seal as the mating threads are drawn together. In addition, some kind of sealant is necessary to prevent leaks. That's usually PTFE tape or a product such as SWAK.
Take a look
So let's put all that information together. Here's a great video to show you how it's done. You'll need a caliper, a pitch gauge, and a Swagelok Thread and End Connection Identification Guid (which you can download for free).
Use the calipers to confirm that you have straight or tapered threads. The pitch gauge has a lot of different saw-tooth blades that fit into the thread roots. Try different blades until you get the exact match. Some fractional and metric thread forms are very similar, so take the time you need to do it right. The Swagelok Thread and End Connection Identification Guide has illustrations to help you.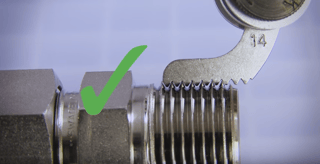 We're here to help
You don't have to figure it all out on your own. Swagelok Northern California has Thread Identification Centers at both of our Will Call locations. The displays have examples of threads in a wide variety of configurations, plus photos illustrating how to identify thread type and how to measure.
If you've been staring at some threads, wondering what exactly you have, we can help you get a definitive answer.
Additional Resources