12 Steps to a Successful Compressed Air System Analysis
by Jeff Hopkins, on 11/3/17 9:00 AM
These systems typically develop operational issues and leaks as they age
---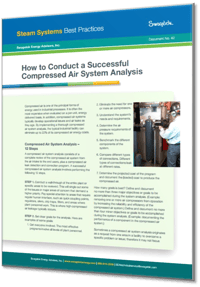 With a thorough analysis, it is not unusual to eliminate up to 22 percent of compressed air energy costs. Download the complete best practice to learn more »
---
Compressed Air System Analysis in 12 Steps
A compressed air system analysis consists of a complete review of the compressed air system from
the air intake to the end users, plus a compressed air leak detection and correction program. A successful
compressed air system analysis involves performing the following 12 steps.
1. Take a walk
Walk through the entire plant or specific areas to be reviewed. This will single out some of the issues or major areas of concern that demand a higher priority. Pay special attention to quick coupling points, regulators, oilers, drip traps, filters, and areas where plant personnel work.
2. Set goals
Set a few major goals (no more than three) such as removing one or more air compressors from operation. Also, set a few minor goals such as documenting the performance of a component in the compressed air system.
3. Who will do it?
Will you use in-house staff or a third party? There are benefits and detriments to each option.
Your own employees are more likely to know the compressed air system, but they may not have all the specific skills and equipment. An outside contractor can furnish the necessary labor and testing equipment, leaving your staff free to concentrate on their core jobs. But outsiders won't know the facility layout or operating conditions. It helps to have an insider work with an outsourced team.
4. Get management on board
You may need special funding for the project. If you've already completed the first three steps, you'll be able to provide management with the cost of compressed air operations, your expected goals, and how you plan to accomplish them.
5. Benchmark
Measure the current performance so that you can show that your program succeeded. Review the standard operating procedures for the compressor operation. If SOPs do not exist, write them.
6. Pick a method
There are three basic ways to find leaks. One is the human ear. It's instantly available, but not always great for pinpointing the leak area. Background noise gets in the way too. Another option is a liquid detector. The third is ultrasound equipment.
With a thorough analysis, it is not unusual to eliminate up to 22 percent of compressed air energy costs.
7. Prioritize repairs
How small of a leak are you willing to fix? Some leaks may require lines to be shut down.
8. Prioritize testing
Think about ease of access to various parts of the system, where equipment is concentrated, and your ability to document cost savings.
9. Determine documentation
How will you measure success? If the report is vague, it will be hard to get others to take it seriously and continue the program.

10. Find a qualified contractor
If you are using an outside contractor, put together a checklist of things to look for. That can include a company's ability to do all the work itself, its safety record, and its references. Also, make sure the company can meet your schedule not only for the analysis itself, but also for delivering a report.
11. Analyze and make corrections
Now it's finally time to do the main job. But don't stop there. Have maintenance personnel stay on top of the system by identifying and repairing leaks once a month or at least every six weeks.
12. Spread the word
Market the program's results to the plant. This will keep the program moving forward, and ensure continuing success.
A more detailed look
For a more detailed look at all 12 steps, How to Conduct a Successful Compressed Air System Analysis is available as a free, illustrated, four-page PDF. Click here to access the complete best practice.
Download it, read it, then get ready to start saving some money on your compressed air system.
---
additional resources
---
get in touch
In a hurry or have a question? Please click here to get in touch - we respond fast! Or call 510-933-6200.
---