We Want To Pass Our Expertise Along To You
by Jeff Hopkins, on 10/26/17 9:00 AM
November 8th Swagelok Tube Bending Seminar is just one of many training opportunities available from Swagelok Northern California
---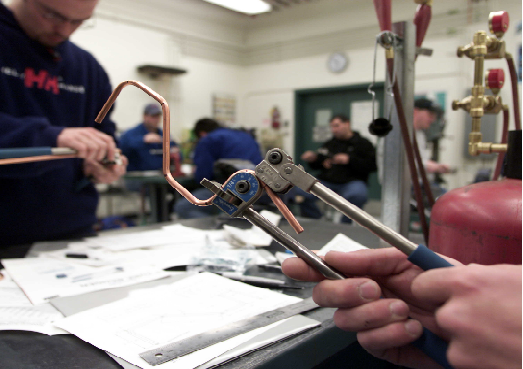 Sign up for the November 8th Tube Bending and/or Tube Fitting Safety Seminar on our Events page >>
---
Bend it like Swagelok
The best way to get full value from Swagelok components is to learn the best way to select and install them. And the best way to acquire that knowledge is to let our in-house experts teach you. We have a wide variety of classes to pass along our expertise, starting with our Nov. 8 class in tube bending.
Tube bending is not a skill that is taught in schools or published in textbooks. It is a skill that is normally passed from a craftsman to his apprentice. When you learn from the experts at Swagelok Northern California, you never have to worry about whether a co-worker has taught you any bad habits. With guidance from our certified expert, you'll learn how to consistently make optimal tube bends, and do the work efficiently.
We start at the beginning: How to handle tubing without damaging it. We'll show you how to properly cut and debur the tubing as well as how to bend it. You'll learn how to calculate the length of tubing you need to get from Point A to Point B. That's especially important when you are using expansion loops and offsets, which we'll also cover.
Good craftsmanship not only saves money by reducing the amount of expensive scrap, it also improves fluid system performance.
The course has hand-on exercises as well as classroom instruction, so you'll be able to practice what you just learned.
Anyone who has to install tubing can benefit from this course: fabricators, contractors and technicians. But it's also valuable knowledge for people who design fluid systems: engineers and draftsmen. Anyone responsible for inspecting or maintaining a fluid system also needs to know if the job was done right: quality control personnel and safety engineers.
Good craftsmanship not only saves money by reducing the amount of expensive scrap, it also improves fluid system performance
Other Swagelok training courses
Tube bending is only the start. We also offer classes in:
Tube Fitting Safety. You can brush up on good fabrication procedures, review tube systems vs. pipe systems, and practice with thread sealants and lubricants. The Tube Fitting Safety Seminar is also offered, Wednesday, November 8th. Get the details on our Events page.
VCR Metal Gasket Face Seal Fitting Installation. The Swagelok VCR Metal Gasket Face Seal Fitting has remained the preferred fitting in the semiconductor industry for high-purity gas delivery systems. The fitting must maintain a leak tight seal on some of the most highly toxic, corrosive and flammable fluids ever developed by man. With this class you'll learn how to optimize the performance of the VCR fitting.
Introduction to Gas System Components. This course provides an introduction to the gas system components commonly used in semiconductor manufacturing as well as within the typical semiconductor process tools. The eight-hour course provides hands-on familiarization and functional knowledge of the common components found in semiconductor process gas systems.
Valve Selection. The safe selection of the right valve for an application may appear to be a complex task. In reality it can be broken down into a repeatable step-by-step decision making process. The objective of the class is to eliminate the guess-work in valve selection; thereby minimizing ordering errors, reducing the potential for the misapplication of valves, and avoiding the costs associated with a valve failure.
Valve Installation & Maintenance. Even the best-engineered and most precisely manufactured valve will wear with the passage of time. Poor installation and maintenance procedures can lead to premature valve failures and reduce the mean time before failure. Armed with a better understanding of a valve's limitations and the knowledge of what can and cannot be repaired, you can greatly extend the service life of a valve.
There's no need for guesswork when our experts are ready and willing to show you the right way to get things done. Go to our training page to learn more or go to our events page to register for the November 8th Tube Bending and/or tube Fitting Safety Seminar.
---
additional resources
---
get in touch
In a hurry or have a question? Please click here to get in touch - we respond fast! Or call 510-933-6200.
---