Beyond Basics: Swagelok's Advanced Class In Orbital Welding
by Jeff Hopkins, on 8/2/17 8:30 AM
Swagelok's five day course of hands-on training gives maximum results
---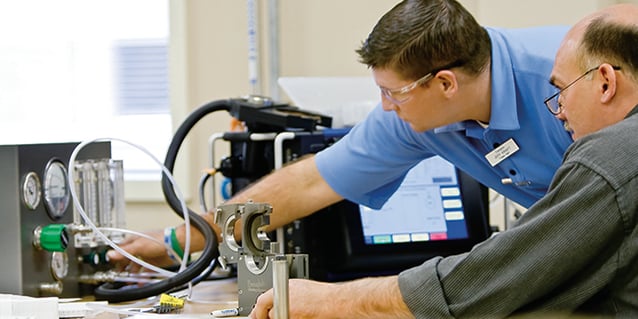 Swagelok Advanced Orbital Welding Training can also help you obtain ASME Section IX certification. To learn more download the brochure »
---
Diving deep
As with most of Swagelok's training classes, this five-day course combines lectures and hands-on activities. The course provides an understanding of welding principals, how to set up and operate the orbital welding system, and troubleshooting.
The course starts with four days of lecture and lab. It is enough time to get into the details of tungsten electrodes, shielding and backing purge gases, preventive maintenance and a variety of weld procedures.
At the end of the course, each student can take home a reference workbook and a users manual.
Our instructors are all certified weld inspectors as well as certified weld educators, and have a minimum of five years experience in orbital welding instruction.
Test time
The course comes with a certificate of completion, but only to those who pass the theoretical and practical exams administered at the end. These exams aren't just for show. It takes a score of at least 80 percent to pass. Each student must demonstrate the ability to prepare and weld a tubing system according to a specific drawing without any help.
The fifth day is dedicated to preparing weld samples to test for ASME Section IX qualification. This can be used to fulfill QA/QC requirements for the participant's company.
Join this intensive five-day lecture-lab to develop a thorough understanding of orbital welding principles.
For beginner and experienced welders
The course is designed to give an introduction to the entry-level orbital welder, and enhance the welding skill knowledge for the experienced orbital welder. It's also a good course for supervisors of orbital welding operations, engineers who design systems where orbital welding can be used, and quality assurance and quality control personnel.
Whether you need a little bit of training on orbital welding or an in-depth course, Swagelok has you covered.
The next class will be held October 22-26, 2018
You can get more information by downloading our Swagelok Orbital Welding Training brochure. If you are ready to sign up for the class, you can register on our Events page.
---
additional resources
---
get in touch
In a hurry or have a question? Please click here to get in touch - we respond fast! Or call 510-933-6200.
---