Swagelok Northern California Invites You To Swagelok Summer School
by Jeff Hopkins, on 6/4/14 9:00 AM
Stay up to date on fluid system selection and installation best practices through Swagelok training.
---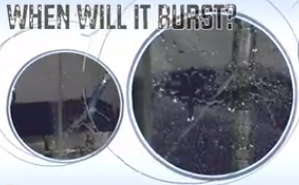 Our When Will It Burst? video series provides samples of the training we provide in our in person training classes like the six components of a Swagelok® tube fitting, Swagelok tube fitting installation, tubing selection, tubing derating factors, and Swagelok inserts for use with soft plastic tubing and Swagelok tube fittings. The When Will It Burst? video series will be taking a summer break, however, we will be offering other training opportunities this summer. We invite you to join us at Swagelok Summer School. Before I tell you about our summer training opportunities, I would like to congratulate the winner of When Will It Burst? #4. Guesses ranged from 88 psi to 850 psi, and Gerry C. of Santa Clara, CA had the closest guess, only 1.5926535 psi away from the actual burst pressure. Congratulations Gerry, your $100 Visa gift card will be sent to you soon.
You can watch the video to get the details on Swagelok inserts for use with soft plastic tubing and Swagelok tube fittings, as well as the tubing we burst and its pressure ratings here »
Tube fitting safety seminar
Too often tube fittings are assembled by "feel" -- resulting in a connection that may be susceptible to leakage. You can provide yourself and your personnel with training in safe tube fitting selection and installation by holding a Tube Fitting Safety Seminar (1 1/2-2 hours) at your facility. This class is designed for new hires who need to learn the basics and old hands who need to brush up on best practices. Anyone responsible for specifying, installing, and maintaining leak-tight tubing systems could benefit from this class including fabricators, contractors, technicians, engineers, draftsmen, quality control personnel, safety engineers, and procurement personnel. You can learn more about this course and our other training courses like VCR® face seal fitting installation, tube bending, and valve installation and maintenance here »
When Will It Burst? - the sequel
Back by popular demand! We created another series of When Will It Burst? videos, and this time we went global. Our friends at Swagelok Japan, Swagelok China, Swagelok Canada, and other locations also participated in the contest by sharing it with their customers. We had contest winners from all over the world. You can watch all of the videos on our new When Will It Burst Intro Page.