Watch an Entertaining Introduction to Swagelok® Assembly Solutions
by Jeff Hopkins, on 6/10/15 8:00 AM
Our new animated video illustrates some advantages of letting us built it for you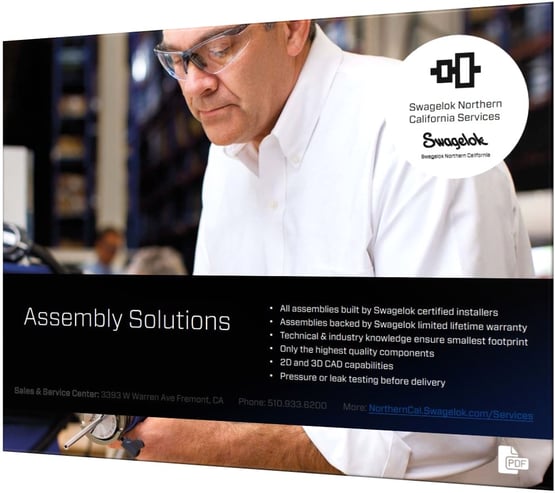 This 20 page PDF shows the best ways to use our assembly solutions team to quickly and economically solve problems, and helps get you started. Get our Assembly Solutions Handbook
here »
For an entertaining and enlightening introduction to our Assembly Solutions team, we've created a new animated video explaining how it all works. It stars a mustachioed fellow named William who runs a commercial operation here in Northern California, and who relies on a smooth-running fluid system.
Our video looks at how William used to experiment with in-house assembly solutions, and some of the problems he ran into. That includes getting stuck with wrong parts that got ordered, and scrap when the components weren't assembled right the first time.
Then you'll see how much better life gets for William once he decides to have Swagelok Northern California assemble his components from A to Z. They arrive at his door completed, tested, and put together in a high-quality fashion.
Tools, expertise and inventory
Swagelok has always made it easy to assemble fittings, replace parts and perform regular maintenance on fluid systems. Putting together an assembly or even a sub-assembly is a different job entirely. If your employees aren't doing that job regularly, they may lack the right tools and the expertise to use those tools properly.
Fortunately, our Assembly Solutions team has everything needed to pre-assemble the product and deliver it to you. The job can be as simple as putting an adapter on a valve or putting a single bend in a piece of tubing. But it can also be as involved as putting together entire sampling systems with complex configurations of tubing. We make hoses too in any custom length, and with almost any type of end connection you want.
We have one more advantage in addition to the tools and factory-trained installers. We have a warehouse with $12 million worth of Swagelok inventory to draw from and integrate into Assembly solutions for customers.
We can do the job quickly and at a higher level of quality than you may be able to achieve in-house. You save time and money, and can have full confidence in the work. Meanwhile, your own employees aren't distracted from their regular jobs.
Less stress
So, when William needs an assembly for his sampling system, he simply sketches out his idea and asks Swagelok Northern California to help optimize his design, create a CAD drawing, build it, test it, and warranty it. He doesn't get boxes of valves, fittings, tubing, pressure gauges, pressure regulators, and flow meters, along with numerous quotes, part numbers, purchase orders, packing lists, and invoices that go along with them. Instead he gets a fully tested assembly, complete with all the components already connected and ready to be put to use immediately.
When you are done watching William, click on this link and learn more about what our assembly Solutions team can do for you.
Additional Resources