Crucial Upgrades Keep Natural Gas Flowing
by Jeff Hopkins, on 2/20/20 8:45 AM
With Swagelok's help, Hoerbiger brings old compressor engines up to modern standards
---
"It was a game-changer for us.... How Swagelok pulls it off I do not know."
- From Hans Matthews, general manager, Hoerbiger Engineering Services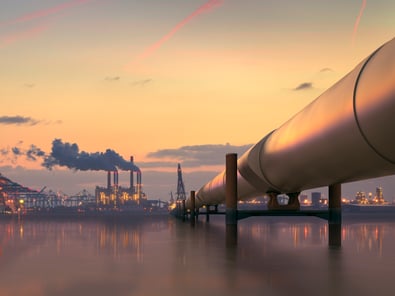 When natural gas has to be sent over long distances such as from Texas to New York,
it takes big engines to get the gas through the pipeline. Some of those large bore, gas-fired engines have been in service for decades, even as far back as the 1940s.
To keep them running and bring them up to modern environmental protection standards, pipeline companies turn to Hoerbiger Engineering Services in Houston.
To get the parts and assemblies needed to do the job right, Hoerbiger turns to Swagelok.
More than a tune-up
The legacy engines that Hoerbiger works on are no longer being manufactured. When they need new fuel systems, Hoerbiger has to come up with new parts. It's a lot of work, but it's still makes more financial sense than installing brand new engines.
"We modify them to perform equal to or better than anything that can be bought today," says Hans Matthews, general manager and senior vice president of Hoerbiger. "It's one-third or less the cost of replacement to upgrade the equipment."
Hoerbiger can reduce nitrous oxide emissions on the order of 95 percent, and carbon monoxide emissions by up to 90 percent, generally without an impact on fuel economy.
It's very demanding work. When a company has to shut down a 20-inch pipeline, the upgrading must be carried out on a tight schedule. Horebiger must retrofit the compressor engine and get it back running when the customer needs it. Missing a deadline can mean the loss of hundreds of thousands of dollars in revenue.
Reliability
Hoerbiger needs special parts for adapting the fuel injectors on the old engines. The fuel must have a very straight, narrow and consistent diameter path. Initially, Hoerbiger tried to have the adapters made at local machine shops. They quickly found some sealing problems with making the connection with Swagelok parts that were being used. The company decided that no one knew Swagelok connections better than Swagelok, so they turned to Swagelok Southeast Texas for help.
"We are able to help them with a lot of things," says Gary Wellborn, director of sales for Swagelok Southeast Texas. Not only could Swagelok supply the adapter, but it supplied Hoerbiger with pre-assemblies, subassemblies, hose advisory services and custom-built nitrogen purge control panels. All the work is done locally in Houston.
Swagelok quality and reliability make are crucial to the success of the partnership. If there is failure, there could be damage to human life and to the environment. Hoerbiger no longer has to worry about a high failure rate for the special adapters.
"It was a game-changer for us," Matthews says. "We were no longer having to buy 15 so we could break five and have 10 that worked. We could buy 10 that worked. How Swagelok pulls it off I do not know." You can hear Matthews and others at Hoerbiger tell you the story themselves in the video below.
---
Just ask
If that inspires some ideas on how Swagelok Northern California can help you, give us a call at 510-933-6200 or send us a note through our contact page
---
More like this:
Swagelok Thread and End Connection Identification Guide (download page)
There's Nothing Like a Set of Well-Fitting Threads (blog)
Leak Detectors, Lubricants & Sealants (product page)