Designing For Weld Perfection
by Jeff Hopkins, on 9/12/18 9:12 AM
How do the methods of increasing purity come into play when orbital welding is used?
Swagelok's orbital welding system offers precision and control combined with easy-to-use touch-screen operation and real-time monitoring and recording.
---
We have looked at 316 stainless steel in high-purity systems and reactive chemistry and how the purity can be increased through chemical passivation and/or electro-polishing. How do those methods come into play when orbital welding is used?
Orbital welding in many ways has become the gold standard in high-purity fluid system construction. Good quality welds can make a huge difference when it comes to system performance and starting with the right alloy composition on both sides of the butt-weld is paramount.
One of the primary factors for weld quality is the sulfur content of the metal. Equal amounts of sulfur on either side of the weld can make a huge difference in overall weld quality. At Swagelok, we tightly control our sulfur, chromium, and nickel content to ensure maximum weld repeatablility.
316L SS: ASTM vs. Swagelok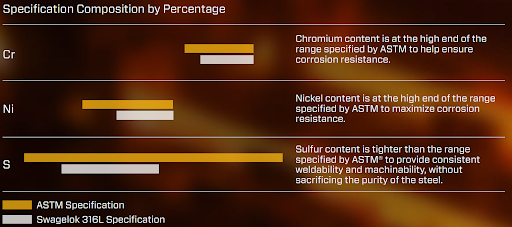 Mis-matches in sulfur can lead to welds that don't fully penetrate the walls of both sides of the tubing. Improper welds like this can create dead volumes and entrapment zones and result in a weld bead shift. A semiconductor-quality weld bead should be neither concave nor convex and be nearly indistinguishable after post-weld passivation.

Passivation is, for the most part, the only option after welding to clean up a system. Why? Electro-polishing requires placing an electrode on both sides of the metal for zonal surface treatment. In most systems, after welding the components together it's basically impossible to get an electrode to the inside components.
Passivation is typically an immersion of the parts into a nitric/hydrofluoric acid mixture for about 30 minutes to remove those pesky surface ions created during welding. If your system has female VCR fittings, you need to consider the anti-galling treatment on the female VCR nuts. Swagelok's anti-galling treatment is a thin layer of silver with a light lubricant on the female threads of the nut. Immersion into a strong acid solution will completely etch away the silver and can actually contaminate the weldment.
To solve this problem, Swagelok has a solution: removable split VCR nuts. This enables the weldment to be effectively passivated without the nuts on the assembly. Still concerned that the silver and subsequent lubricant will contaminate your system? Swagelok also offers our female VCR nuts with no sliver and/or no lubricant. Of course, removal of the lubricants can create the potential of galling when pulling up the VCR fitting.
(Prefer to talk live? Please give us a call at 510-933-6200.)
---
More on this topic: