Grab Sample Basics: Bottle or Cylinder?
by Jeff Hopkins, on 10/8/18 8:30 AM
You'll need the right type of closed loop sampling system to get the most useful results
---
"Grab sampling, also known as, lab sampling or spot sampling, is the collecting of a sample of liquid or gas in a pipeline, tank, or system with the intent of transporting the sample to a laboratory for analysis."
- From Swagelok Grab Sampling Systems Application Guide
---
When you need to analyze the fluid in your pipeline, tank or system, you need a grab sample (also known as a lab sample or spot sample). The sample can validate the process conditions. You can use it to make sure you are meeting quality specifications. It can also provide verification of environmental emissions.
But first, you need to make sure you capture a truly representative sample. Pouring a sample into an open bottle may not be good enough. Some chemicals will evaporate or fractionate if not maintained under pressure. And, obviously, it won't work for vapor.
Closed bottle or cylinder?
The first decision to make is what type of container you need. A pressure-containing metal cylinder, as found in the Grab Sample Module (GSM), will work for all liquid and vapor samples. Swagelok sample cylinders come in five different sizes. If you have is a non-volatile liquid, you also have the option of using a less-costly, non pressure‑containing glass or polyethylene bottles as found in the Liquid Only Sampling Module (GSL). Those bottles come in 10 different sizes.
---
Standard Liquid Panel (GSL)
---
Here are a few other criteria to consider:
Pressure: Each GSM and GSL system has a maximum rated pressure, not to be exceeded.
Temperature: Each GSM and GSL system has a maximum fluid operating temperature. (Some models may have reduced pressure ratings at elevated temperatures, and may have minimum fluid operating temperatures.) Swagelok recommends consideration of a sample cooler when the supply temperature exceeds 140°F (60°C.) Note that thermal safety may affect sample integrity.
Hazardous/flammable material: Certain chemicals such as aqueous chlorine and pyrophoric compounds require more stringent leak or chemical protection than may be provided by a Swagelok GSM or GSL.
Materials of Construction (including coatings, etc.): The materials used in the sampling system must be compatible with the system fluid. The standard material of construction for Swagelok sampling systems is 316 stainless steel. Alternate materials such as brass and alloy 400 are available for some configurations.
---
Standard Gas Panel (GSM)
---
Surface treatments: Surface treatments can reduce the absorption and adsorption of the sample fluid into metallic surfaces, leading to a more representative sample. Electropolished tubing is available. In addition, many coatings can be applied to the wetted components, including SilcoNert, Silcolloy, and Dursa.
Purge: Some chemicals may leave residue or contaminate the lines if not flushed from the system. Selecting the purge option provides a means to introduce a purge fluid (air, solvent, etc.) to remove residual contamination from the sample lines.
We have a lot more to say about grab sampling systems, and you can have the information for free. Click on the link below to download our Grab Sampling Systems Application Guide.
---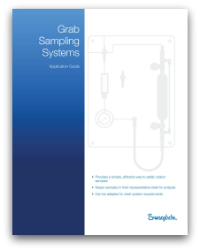 Swagelok Grab Sampling Systems Application Guide (Catalog)
---
More like this: