Join Forces With Swagelok Northern California To Conquer Space
by Jeff Hopkins, on 4/6/16 8:00 AM
Swagelok components, tools, and custom solutions enable you to get more done in tight quarters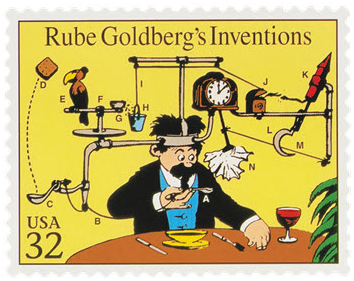 The next time you need a laugh, do an image search on Rube Goldberg's inventions. He was a cartoonist who drew fanciful, ridiculously complicated devices to perform simple tasks. When Goldberg would sketch out one of his impractical pencil sharpeners or bottle openers, he'd fill a room with levers, ramps, tables, and all kinds of hardware.
His approach was the exact opposite of how Swagelok tackles a problem. Our goal is to help you devise a system that takes up as little space as possible. We aim for simplicity so that you have fewer potential leak points to deal with. We recognize that your designers want to use space efficiently. We also know that your installers and maintenance crews sometimes have to work in cramped spaces.
It's a snap
Swagelok's miniature modular system is a great way to shrink the footprints of systems for process analyzing, sample handling and similar fluid distribution. You'll find the systems easy to configure, assemble and maintain.
The foundation for the system is the substrate channel. A variety of drop-in components provide the main flow path from one surface-mount component to the next. Locator pins on the components fit into corresponding holes in the channel. Putting them together is, literally, a snap.
On top of the substrate layer comes the manifold layer. The same system of locator pins allows you to create the flow path between up to six parallel substrates.
Next come the layer of Swagelok surface-mount components that make up the fluid distribution system. Standard O-rings leak-tight seals between each surface-mount and substrate flow component and between the substrate and manifold flow components. Surface-mount components are easy to service from the top of the assembly without disturbing any other components.
Swagelok also makes an interactive software tool called the Swagelok Modular Platform Components (MPC) Configurator to help you plan out the details. You end up with a complete bill of material and an assembly schematic that details the exact placement of each component. The Configurator can even provide basic engineering calculation functions along with AutoCAD and SolidWorks outputs. A built-in safety feature warns you when a design won't work.
PrESS here
You may have thought of Swagelok's Pre-Engineered Subsystems as a way to save time and money. You aren't wrong. PrESS is a series of Swagelok components predesigned and pre-assembled for use anywhere that fluids are processed. They range from simple weldments to complex manifolds. The list includes fluid distribution headers, sample probe modules, calibration and switching modules, and others.

But in addition to saving time and money, PrESS can save space. Instead of having to figure out and build a system from scratch, you get standard configurations and layout consistency.

We have calibration and switching modules, sample probe modules, field distribution headers and other assemblies that arrive at your door ready to go.
Our custom
Our Custom Solutions team takes the idea of PrESS one step further. You get the same kind of finished assembly, but made to your specs. The job can be as simple as putting an adapter on a valve, or as involved as putting together entire sampling systems with complex configurations of tubing.


Because we have specialized tools, factory-trained installers, and fluid system engineering expertise, we can create space-saving complex bends, join tubing with metal-to-metal orbital welds, and know when it's best to use components such as flexible hose to move fluids through constricted spaces. We can also optimize your design, help you minimize the number of leak points, and make sure you have the right products for your application.
Tool time
We know that working in the field sometimes means working in tight spaces. That's when you want the Swagelok preswaging tool. You can do some work ahead of time on the bench and then take the assemblies to the field and put it all together. To complete the installation, just follow the retightening instructions for Swagelok tube fittings.
We offer the preswaging tool as part of two different packages of tools: The Tube Fitting Assembly Toolkit and the Tube Fitter's Toolbox. The Tube Fitting Assembly Toolkit also includes a Tee wrench for positive backup support when installing Swagelok union tees and crosses, a ratchet wrench specifically designed for use on Swagelok nuts, a tube cutter, a tube deburring tool and a tube gripper pad. The Tube Fitter's Toolbox has basically the same set, plus tube benders.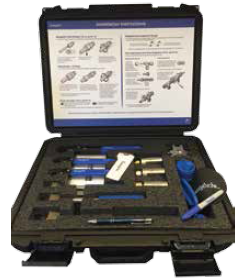 Familiar look
If this toolkit seems a little familiar, that's because it is a close cousin to our Tube Fitter's Toolbox.
There are a few differences, the big one being the inclusion of hand tube benders. If you need the benders, get the Toolbox (ordering number MS-FSTOOLS-KIT).
If you don't need the benders, get the Toolkit (ordering number SNC-ASSYTOOLS-468-KIT). If you already have tools and just want the case, use ordering number SNC-ASSYTOOLS-468-CASE.
Of course we're happy to sell you any of the tools and accessories individually.
Training bonus
Additional Resources