Showtime: New video demonstrates Swagelok Bench Top Tube Bender
by Jeff Hopkins, on 4/24/19 9:00 AM
If you've never used Swagelok's bench top tube bender, or if it's been a while since you have, Swagelok has a nine-minute video that goes through the whole process.
(Sidenote: we also offer tube bending seminars and tube bending services. Scroll to the bottom of this article for more about those offerings.)
The bench top bender isn't hard to use, but it's important to do the right steps in the right order. Seeing a demonstration really helps make the steps clear, especially when you can pause and go back to make sure you understand the procedure.

You'll see all the tools needed to use the bench top bender, what each one does and how it should be attached to the main unit. Proper alignment of each part makes the difference between a good bend and wasted tubing.
Handy tips
The video also gives some tips, and alerts you to aspects of the job that might not be obvious at first glance. For instance, when inserting the tube, the end of the tube must extend past the end of the clamp arm to prevent potential damage to the tube during bending.

It's important to leave approximately 3/8 inch clearance between the D roller and the clamp arm of the bend shoe. As the video shows, you can place a piece of white paper between the rollers to make it easier to see the gap.

Then there are the three shafts on the end of the bender. Shafts 1 (low bend speed) and 3 (high bend speed) must be cranked clockwise to bend the tube, but shaft 2 (medium bend speed) must be cranked counterclockwise. And you never want to release the hand crank while the tube is under load, as the crank could spin and cause an injury.
Detailed help
Our video is not intended to be an exhaustive set of instructions. For that, we have the 44-page Bench Top Tube Bender's User's Manual. It includes a section on maintenance and a troubleshooting guide. All of this helps you make the right bend on the first try, reducing scrap and saving time.
---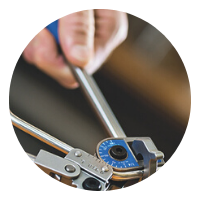 Tube bending seminars
In our standard 2-hour tube bending seminar, you'll review tube cutters, deburrers and benders; learn to calculate exact tube lengths needed; and practice time-saving fabrication techniques. You'll take away reference materials and a Certificate of Completion.
We also offer multi-day Advanced Tube Bending Training. It covers the measure-bend method, how to make simple and complex offset bends using Swagelok tube benders, practicing segmented bends, rolling offsets, and more.
---
Tube bending services
Let our Bay Area pros handle bending ¼" to 2" Swagelok stainless steel tubing for you.
With our team of certified pros and a variety of tools to choose from, we are ready to fit your price and lead time.
---
More articles like this: