Nine Common Questions About Process Analyzers
by Jeff Hopkins, on 9/19/18 9:00 AM
The man who wrote the book on sampling systems has the answers
---
"Connecting a process analyzer to an industrial plant may seem to be a simple task; but really, it's quite complex. It demands a melding of instrumentation, analytical chemistry, and chemical engineering knowhow, and few people are skilled in all of those technical arts. "
Tony Waters - From the Preface of Industrial Sampling Systems
---
Tony Waters has heard it all when it comes to problems with process analyzers. His book, "Industrial Sampling Systems," captures the knowledge acquired during a career of more than 50 years of practical experience with industrial process analyzers. Here are his answers to nine of the most common questions he's encountered:
Q: Why can't I remove (or re-vaporize) the liquid condensate in my gas sample?
A: It's because the sample has already fractionated and the gas analysis has changed.
Q: My filter blocks often, so should I be using a bigger filter?
A: Yes, a bigger filter will last longer, but it may cause an unacceptable time delay.
Q: Why is excessive time delay such a common problem with sampling systems?
A: It's a common problem as time delay is invisible. An analyzer that is "99 percent reliable" may be reliably measuring what happened yesterday!
---
Ten Sampling System Mistakes Harming Your Operations (Technical Paper)
---
Q: Should I use a probe?
A: Most of the time, yes. A probe can exclude some of the solids or liquids in the process fluid, and provide a faster response to process change.
Q: What is the best size of tube or pipe for the sample transport lines?
A: The best size is the one that provides the desired speed, turbulent flow and reasonable pressure drop, without having an excessive flow rate.
Q: Is there software to design sampling systems?
A: Software is useless if you don't know what you're doing.
---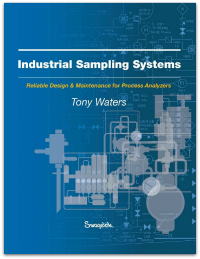 Industrial Sampling Systems, the definitive reference guide by expert Tony Waters (book excerpt)
---
Q: What pore size of sintered stainless steel filter is best to protect an analyzer?
A: Any one you like. They all stop the same size particles!
Q: What's a key difference between the system design for a filter and for a coalescer?
A: The key difference is you can have a fast bypass flow from a filter, but the coalescer bypass flow must be slow.
Q: What is the most common mistake that people make with analyser sampling systems?
A: The most common mistake is choosing the lowest bidder without having a clear specification of what is to be provided
---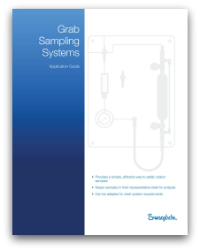 Swagelok Grab Sampling Systems Application Guide (Catalog)
---
More like this: