Not All Materials Pass Muster For Ultrahigh-Purity
by Jeff Hopkins, on 8/22/18 9:00 AM
We can help you choose the right components for your UHP applications
---
"Cleanliness starts with our commitment to ultrahigh-purity materials, followed by our manufacturing processes, cleaning specifications and quality control procedures."
---
Details in materials and processing make all the difference.
If you work in the Semiconductor industry — or any industry where corrosive gases, extreme temperatures, and precision are critical process variables — you need to know that every supplier process, from raw material selection to final inspection of installed components, is designed to get you from source to exhaust with maximum cleanliness and no contamination.
At Swagelok Northern California, the cleanliness chain starts with our commitment to ultrahigh-purity materials.
The details
Stainless steel is the industry-preferred material for UHP products used in gas systems due to the inherent properties of corrosion and oxidation resistance. But not all stainless steel is created equal. Much of what you'll find in the open market is made with lesser quantities of expensive elements, including nickel and chromium. That makes them more susceptible to corrosion. Swagelok's specification for chromium and nickel content in our stainless steel is at the high end of the range specified by ASTM standards.
Then there's sulfur content. Welding two components with differing sulfur levels will yield poor results. The difference in sulfur content creates a weld bead shift, which compromises the quality of the weld. A good weld bead profile, with full penetration to the inside diameter of the weld joint, is an essential requirement for integrity in high-purity applications.
Swagelok's specifies a tighter tolerance for sulfur content than what is specified by ASTM. This results in more consistent weldability and machinability compared to other brands with broader tolerances.
---
At Swagelok, our Semiconductor solutions offer consistent reliability and cutting-edge fluid system technology backed by time-tested technical expertise. Each product is meticulously engineered to offer security, assurance, and the extra advantage you need to leap over the competition. So when achievement feels like it is out of reach, let us support you so you enter the market first, and get ahead.
---
Finish
How a component is finished also makes a big difference. Electropolishing is superior to mechanical polishing for semiconductor applications, since no abrasives are left behind. Corrosion resistance is improved by the higher chrome-to-iron ratio on the treated surface. Additionally, this process results in a smoother wetted surface and reduced wetted surface area, which improves dry-down and system purge times.
Another technique is passivation, which uses an acid bath to further enhance the material's corrosion resistance by creating an inert passive layer that protects against damage from external elements.
Basic Research
How do we know a component will stand up in ultra-high purity applications? Swagelok has joined forces with Semiconductor Equipment and Materials International (SEMI) to pioneer the use of the Critical Pitting Temperature (CPT) test for determining corrosion resistance. The CPT test eliminates inconsistent results of surface testing caused by possible variations among labs. CPT also can be performed as part of our in-line process control instead of sending the parts offsite for evaluation.
UHP cleaning and packaging
Various contaminants, such as machining oils/coolants, finishing media, and electropolishing electrolytes, can compromise purity if not thoroughly cleaned. Swagelok is the author of process specifications that encompass industry leading requirements for performance and cleaning of components used in UHP manufacturing:

SC-01 Ultrahigh-Purity Process Specification has guidelines for surface finish and materials of construction to help our products resist impurities and corrosion, resulting in less likelihood of contamination in semiconductor manufacturing.

SC-11 Special Cleaning and Packaging Specification describes cleaning and packaging requirements for wetted system components that exceed standard cleaning and packaging requirements. This specification helps to ensure that no lubricants or particles enter the wetted stream or other critical paths in semiconductor manufacturing.

SC-10 Standard Cleaning and Packaging Specification defines the cleaning, lubrication, assembly, and packaging requirements for standard products and describes the practices used to meet these requirements.
Ultra-High-Purity applications require special materials, and picking the right components requires special knowledge. Swagelok Northern California will be happy to share that knowledge with you. Contact us either through our website or by calling 510-933-6200.
---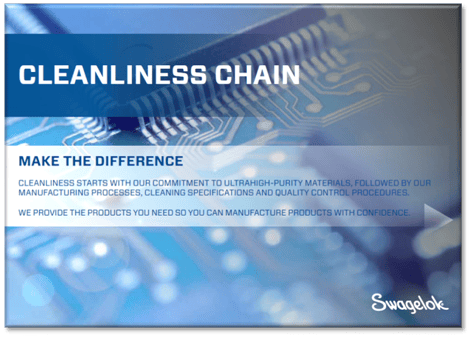 Swagelok's Cleanliness Chain Overview and Cleaning Specifications (PDFs)
---
More like this: