Our Hose Experts Can Help You Get The Most From Your Hose
by Jeff Hopkins, on 12/7/17 8:45 AM
Swagelok Hose Advisory Services are engineered to take the pressure off of you.
---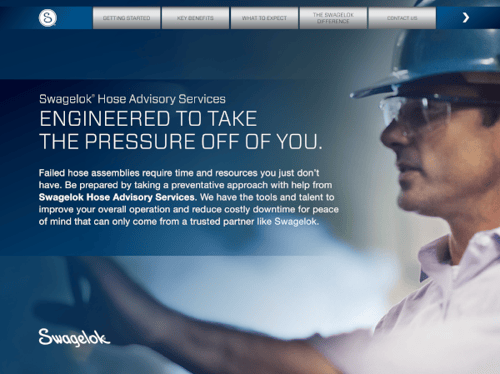 Unplanned downtime. Repeatedly replacing hoses. Wasted product. Safety incidents.
Experiencing these issues or understand that your business is at risk for them?
Proactively manage your hose systems for savings and safety.
Learn more about Swagelok Hose Advisory Services >>
---
Proactively manage hose
What does it mean when a hose assembly fails? Wasted fluid. Loss of profits. Safety incidents. Unplanned downtime. To fix the problem you need to expend time and resources you had planned to use for other priorities.
The wrong hose—or even the right hose improperly installed or used—can slow down production, and you may not even be aware of how much time and money it's costing.

Let Swagelok Hose Advisory Services help. Our comprehensive hose inspections will show you where you can gain more—and save more—and how to best implement those solutions across your facility. Best of all, we'll do it without infringing on your company's ongoing operations.

With our unmatched industry expertise in fluid system design, Swagelok Hose Advisory Services can determine the best hoses to use and the proper ways to install them. Just as important, we'll show you the smartest ways to maintain your hose systems.
What to expect
The Swagelok Hose Advisory Services team partners with you to focus on preventative maintenance and system optimization. Our on-site survey process includes:
A thorough discussion of your facility's goals, where we learn the ins and outs of your specific site.
An on-site visual analysis of all hose systems, including their installation, placement, and interaction within the facility.
A report that details overall findings, prioritized improvement recommendations and suggestions with replacement options. We'll also provide preventative maintenance schedules and hose inspection recommendations for your specific facility.
What does it mean when a hose assembly fails? Wasted fluid. Loss of profits. Safety incidents. Unplanned downtime.
How we do it
Our highly trained advisors walk the floor with you to fully understand your operation and learn what an optimized fluid system means to you. We can limit it to specific areas of focus, or look at the complete facility.

From there, we inspect and report with your specific needs in mind. The inspection notes proper installations and proves an expert critique of problem areas, thereby uncovering other areas for improvement. You'll get a detailed report, backed by recommendations on best maintenance practices and schedules, along with any modifications that can make an impact in your facility.

Through it all, we won't disrupt your facility's operations. Our promise is to keep the communication going before, during, and after the inspection process to give you the training, education, and solutions you need. If you agree on a hose replacement schedule, we can deliver them at your convenience, on your planned downtime.
No one knows hose like Swagelok
Our advisors have the training and experience in the field, in facilities, all over the world. They can draw on an extensive range of products—22 different hose types and 89 different end connections—for an unmatched variety of applications, including yours.

This know-how is what enables us to assess quickly, solve efficiently, and execute properly your best hose solution. You end up with a facility that is safer and more efficient. And you'll have a plan in place to keep it that way.

We know that hoses are easy to overlook, and we want to help you prevent costly problems. Click here to start getting the advantages of Swagelok's Hose Advisory Services.
---
additional resources
---
get in touch
In a hurry or have a question? Please click here to get in touch - we respond fast! Or call 510-933-6200.
---