Swagelok 60 Series Ball Valves Offer Strength And Versatility
by Jeff Hopkins, on 6/13/19 9:00 AM
Options and special models make them ideal for a wide variety of applications
---
"A ball valve's design is about as basic as it gets. At its heart is a ball with a hole through it -- sometimes straight, sometimes with a right angle."
- From The Inside Story On Swagelok Ball Valves
---
Ball valves start with a simple idea: A sphere with a hole through it. Line up the hole with the tubing on either side of the valve, and fluid can run at full flow. Turn the sphere 90 degrees, and you shut off flow.

On that basic platform Swagelok has built a line of ball valves that can serve in a wide variety of applications: 60 Series.
Innovative design
Swagelok's design offers key improvements over a traditional valve design. Take, for example, how PTFE is used. In a traditional valve design, large portions of the seat are unsupported. Since PTFE is unstable and tends to cold flow, the effect of temperature cycling, pressure changes, valve actuation and time in service can cause the PTFE to move into the orifice and body cavity. This reduces the force of the seat against the ball and leaks can result.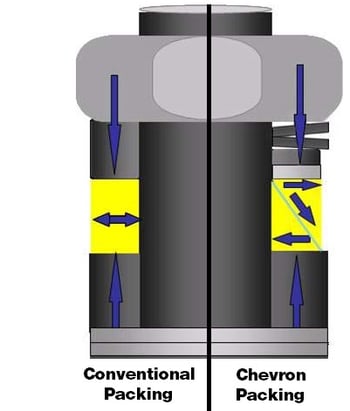 Swagelok combines reinforced PTFE with a coned-disc spring-loaded seat to compensate for seat wear and pressure and temperature changes. To ensure a reliable stem seal we use a two-piece chevron packing. That way, more of the torque on the packing nut can be distributed to the contact area with the stem and the body of the valve. The packing is backed up by a pair of Belleville springs to apply a consistent load on the packing.

End connections range from 1/8 inch to 2 inches, and you have your choice of connections from Swagelok tube fittings, female pipe threads, pipe butt weld to tube and pipe socket welds, tube extensions, VCO and VCR face seal fittings, and sanitary fittings. You can mix end connections, too.

Our swing-out design allows you to change the packing while leaving the valve inline. Your line will be back up and running in much less time than when using traditional valves.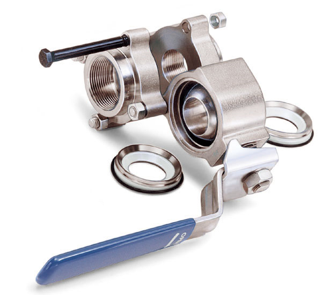 The general purpose version is rated for service from minus 65°F to 850°F, and at standard working pressure up to 2200 psig (151 bar).
---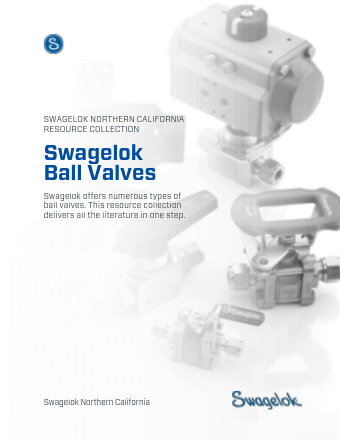 ---
Special applications
In addition to our general purpose 60 Series ball valves, we offer these variations for special applications.
All-welded valves, providing a one-piece body.
Chlorine service valves, pressure rated to 300 psig (20.6 bar). These have a carbon steel valve body with virgin PTFE seats and packing and an Alloy 400 ball. An upstream ball vent prevents overpressurization in the ball and body when the valve is closed.
The L60T series for low-temperature ratings from -65 to 250°F. It features the same design as the all-purpose 60 series valve except the stem bearing is PEEK and the flange seal is Buna C.
Our steam service S60P ball valve. They can reduce lost energy, downtime, and safety hazards associated with leaking valves in a steam system. The patented design of the seats and stem packing resist the erosive nature of steam.
Our thermal service ball T60M valve for applications that use high-viscosity heat transfer liquids. With its unique, spring-like metal seat, this valve is designed to maintain a seal with a minimum seat load against the ball.
The fire-rated A60T series. It can take the heat, meeting API standards as well as the stringent Swagelok standards for fire testing. Flexible graphite stem packing provides a reliable stem seal under normal conditions and maintains a seal in the event of fire. A vented ball allows pressure to equalize between the valve body and the upstream port, preventing overpressurization and potential seal blowout. Eight-bolt construction maintains body integrity and body seals during rapid temperature changes resulting from fire exposure and water quenching.
The Swagelok TVA series integrated test valve assembly for use with saturated steam systems. It consists of two 60 series ball valves and a universal mount in one integrated package. The TVA gives you fast, visual monitoring of steam trap performance. An upstream isolation valve allows for quick, safe, and reliable maintenance of the steam trap.
Exploring options
Our Series 60 ball valve bodies come in stainless steel, brass, carbon steel, and special alloy materials. The seat comes in a variety of materials too: reinforced PTFE Alloy X-750, carbon/glass PTFE PEEK, and UHMWPE Virgin PTFE.

You can get lever or oval handles, with locking brackets if you prefer, and we have handle extensions available.

We offer dead space inserts to reduce fluid entrapment around the ball, stem and seats. (But they are not for use on steam, thermal, or fire series valves).

We even have the 60 Series in a three-way switching configuration.

Our full valve catalog is available on our website. Don't let the choices overwhelm you. We'll be glad to go over your options when you contact us through our website or call us at 510-933-6200.
---
More like this: