Swagelok for the Alternative Energy and Alternative Fuels Industries
by Jeff Hopkins, on 2/17/16 8:00 AM
We're helping our customers develop technologies to reduce fossil fuel dependency with new fuel cell designs, more efficient photovoltaic solar cells, and alternative fuel vehicles. Get selected resources for alternative energy pros here »
We're helping customers develop technology to reduce fossil fuel dependency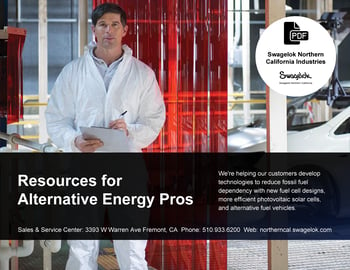 Whether you are working on new fuel cell designs, more efficient photovoltaic solar cells, alternative fuel vehicles or something brand new in the way of alternative energy, Swagelok has the parts you need.
Here are a few examples:
Alternative Fuel Service Ball Valves
Our new Swagelok two-way ball valves for alternative fuel service are made for high pressure, high flow, high temperatures and high durability. They can handle working pressures up to 6000 psig (413 bar) at 250°F (121°C), and flow coefficients from 4.0 to 13.8. The unique ultra-low temperature fluorocarbon O-ring seals across the full temperature range of the valve (-40 to 250°F [-40 to 121°C]). Swagelok's spring-loaded seat design does not require adjustment after the valve is installed. All wetted components of the AFS ball valve are compatible with hydrogen and compressed natural gas.
You also get a choice of a heavy-duty quarter-turn directional handle, a Swagelok rack and pinion pneumatic actuator, or an ISO 5211-compliant rack and pinion pneumatic actuator.
Swagelok Tube Fittings: Leak-Tight and Consistent Gaugeability
Swagelok developed the original two-ferrule tube fitting. Its proven design provides consistent leak-tight connections in thousands of diverse applications. The two-ferrule mechanical grip design allows the front ferrule to seal while the back ferrule grips.
Because this design uses consistent geometry instead of torque for gaugeable makeup, the Swagelok tube fitting can be used on a range of thick- or thin-walled, hard or soft tubing, while resisting the effects of pressure and thermal cycling. Swagelok tube fittings are available in a wide variety of materials and configurations, in sizes from 1/16 to 2 in. and 2 to 50 mm.
FW, F, and TF Series Filters
These filters are made for gas and liquid service; 1/8 to 1/2 in. and 3 to 12 mm end connections. They come in both brass and stainless steel.
Snoop, SWAK, PTFE Tape, and Goop
Swagelok offers Snoop liquid leak detectors; Goop thread lubricants; SWAK, PTFE Tape, and PTFE-Free pipe thread sealants.
Small Bore Tubing
Swagelok small bore tubing solutions offer performance benefits along with a lower total installed cost.
Application Support by Industry Veterans
Each of our sales and account professionals specializes in a major market. Whether you are an original equipment manufacturer or responsible for optimizing the daily maintenance, repair, and operation of your facility, or designing and integrating modules and systems for OEMs, you can count on knowledgeable support with technical information, product selection, and fluid system design. That includes:
• Applications Engineering
• Technical Drawings
• Product Substitutions
• Prototyping Services
• Technical Product Support
Comprehensive Education & Training
Improve safety, increase productivity, and keep abreast of the latest fluid system technologies with our comprehensive customer training and education programs. We offer:
• Swagelok Tube Fitting Safety Seminar
• VCR Metal Gasket Face Seal Fitting Installation
• Tube Bending Training
• Introduction to Gas System Components
• Valve Selection Training
• Valve Installation and Maintenance
• Other training through Swagelok University
Get selected resources for alternative energy pros here »
Let us know what other fluid system resources we could provide to help you do your job in the comment section below.
Additional Resources