The Best Process Analyzer Systems Include These 4 Elements During Installation
by Morgan Zealear, on 9/15/20 8:45 AM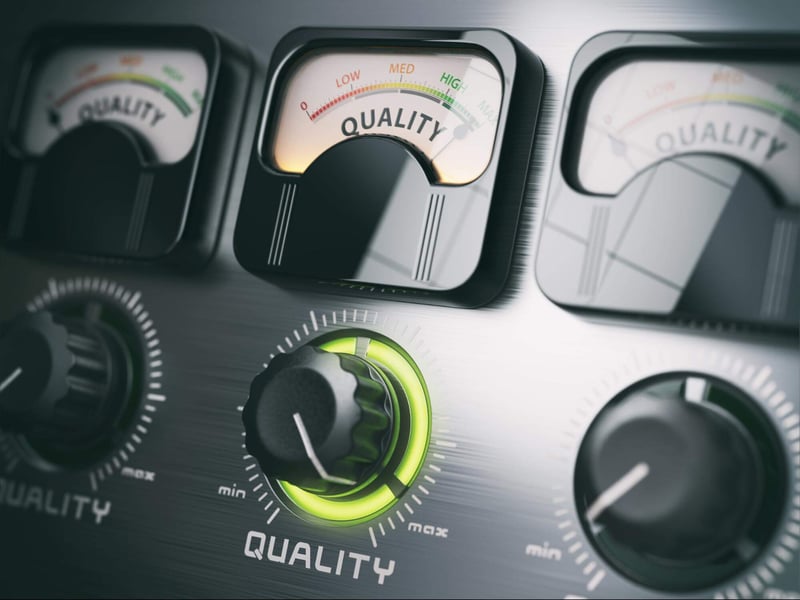 Your representative samples need to be reliable. Every. Single. Time.
When process analyzer systems are not designed and implemented with ease of use and safety in mind, reliability goes down. Skewed sample results can lead to misguided operational decisions—and unnecessary risk.
Whether you're looking at an expansion of a production line or upgrading an existing system, don't let your process analyzer investment be diminished by a grab sampling system that fails to deliver an accurate representative sample. In my years of working with Northern California refineries, I've encountered many instances where attention to key elements of grab sampling design was ignored. Better design would have saved time, money, and risk—not only during installation but also in long-term maintenance and operations.
Here, I'll share four key elements to consider prior to installing or upgrading a process analyzer system.
Good Design of Process Analyzer Systems—and Grab Sampling Stations—Matter

Process analyzer systems should carefully be engineered to meet the specific analytical requirements, including calibration, safety monitors, and custom enclosures when required. Despite this, you still won't get a good representative sample if the grab sampling system doesn't follow similar design considerations.

Grab sampling systems engineered to reliably, cost-effectively, and safely deliver a representative sample incorporate these elements into the overall design:

⇒ Panel designs correctly configured and customized to your specific process requirements to ensure a consistent, operator safe, representative sample process

⇒ Component compatibility with hoses, valves, elastomeric components that don't alter process fluid qualities via adsorption or absorption

⇒ Optimized transport system that minimizes the distance between the probe and grab sample as well as eliminates dead spots, vertical loops, and

pockets that could increase lag time

, compromising sample quality

⇒ Sampling and maintenance efficiency with grab sampling system access that is not impeded by infrastructure; personnel can safely take samples and mitigate problems without requiring

complete process shutdown





Good design takes a holistic approach to the sampling requirements, treating every element, from the sample probe to process analyzer as an integral part of the system. A compromise of any component or unnecessary design complexity will undermine the reliability of the system from day one.

Let me elaborate on each of these four key design elements to help you get a better understanding of their importance in obtaining a representative sample.
#1 Panel Design Reinforces Sampling Consistency
The grab sampling panel should clearly indicate the process sequence and flow with inputs, outputs, tubing, and valve locations that intuitively match the process. Permanent literature with operating instructions and a schematic on the panel may further help ensure a consistent process, regardless of operator.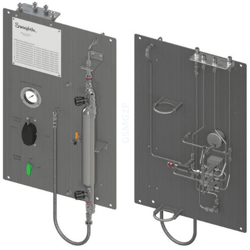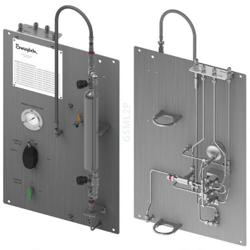 Continuous Flow Gas
with Purge Panel With Instructions

Continuous Flow Liquid
with Purge Panel With Instruction
#2 Ensure Component Compatibility
Grab sampling system components should be selected to ensure compatibility with sample fluids. In most cases, 316 stainless steel or alloy 400 stainless will meet the need. Any elastomers in transport lines need to be verified for compatibility with sample fluids. Interior walls of tubing, hoses, and sample cylinders should also be selected to prevent issues with adsorption and absorption. Note that 316 stainless is incompatible with H2S, which can be absorbed into stainless steel. Interior coatings of Silcolloy or electropolished tubing can mitigate those problems.
#3 Optimized Transport Preserves Sample Quality
From sample probe to the process analyzer system, the process design needs to ensure that sample quality is maintained during transport. Panel design ensures samples are captured consistently and efficiently, liquid or gas.
Transport container design should take into account phase, temperature, or pressure changes that could compromise sample quality. Liquid samples not subject to fractioning or evaporation are safely transported in Boston Round, or specific bottle geometries and materials that preserve sample quality and consistency. Sample cylinders offer many options to maintain a representative sample.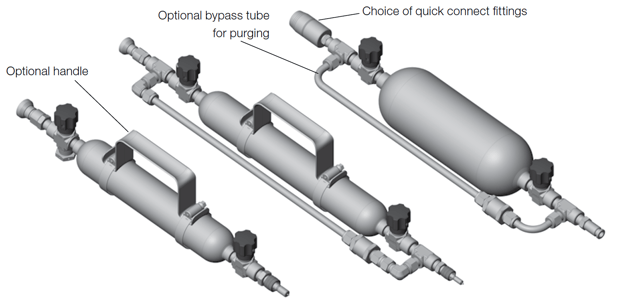 To optimize transport and maintain sample quality, consider the following options for cylinders used to transport pressurized samples.
Quick connects that enable easy cylinder coupling and decoupling
Purge bypass tubes to ensure a representative sample
PTFE coated inner walls that do not interact with sample fluids
Outage tubes to provide a vapor space so fluid in the cylinder can expand when the temperature increases
A grab sampling cylinder, correctly selected and configured to maintain a representative sample, is one of the more critical elements in the entire sampling and analysis process.
#4 Location Impacts Sampling and Maintenance Efficiency
Locate the grab sampling system so that it is easily accessible by personnel responsible for taking samples as well as maintaining the system. When replacing an outdated system, existing infrastructure may place constraints on the location and design of the new system. That's why it's important to work with design and process engineers to overcome those constraints and ensure the location and design of the replacement system incorporates ergonomic and safety principles. Establishing accessibility and ergonomics for grab sampling systems helps personnel use sound practices, thereby minimizing quality assurance concerns.
Proper location and design will also benefit all maintenance activities—more frequent and efficient inspections, easier problem diagnosis, and repairs with little to no impact on downtime.
Getting good representative samples to process analyzer systems depends on well-designed grab sampling systems. Considering the wide variations in sampling and analysis processes across a plant, it's best to seek the expertise of an experienced grab sampling system vendor.
Professional System Design, Fabrication, and Support
Swagelok's field engineers are available for an on-site consultation for Northern California refineries to carefully evaluate your specific needs, from probe to space constraint challenges. Based on first-hand analysis, we can then design and fabricate the grab sampling system that ensures efficient, consistent capture and transport of a representative sample. Swagelok is your local expert with decades of experience in helping bring greater efficiency to refinery sampling and analysis processes.
To learn how Swagelok Northern California can help ensure your process analyzer systems consistently and efficiently obtain representative samples by employing grab sampling systems tailored to the process, Contact our team today by calling 510-933-6200.
---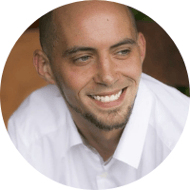 Morgan Zealear | Product Engineer – Assembly Services
Morgan holds a B.S. in Mechanical Engineering from the University of California at Santa Barbara. He is certified in Section IX, Grab Sample Panel Configuration, and Mechanical Efficiency Program Specification (API 682). He is also well-versed in B31.3 Process Piping Code. Before joining Swagelok Northern California, he was a Manufacturing Engineer at Sierra Instruments, primarily focused on capillary thermal meters for the semiconductor industry (ASML).