The Inside Story On Swagelok Ball Valves
by Jeff Hopkins, on 5/29/19 8:45 AM
With so many configuration options, it's worth getting familiar with the catalog
---
"

When it comes to flow restriction, the ball valve reigns supreme in the valve world for lowest pressure drop.

"
- From Ball Valves Offer A Simple Design With Plenty Of Configurations
---
A ball valve's design is about as basic as it gets. At its heart is a ball with a hole through it -- sometimes straight, sometimes with a right angle. Line up the outlet hole with the connected tubing, and fluid can pass through. Turn the ball 90 degrees, and flow stops. (We also offer ball valves in a 3-way, 5-way, and 7-way configurations for switching and 4-way and 6-way configurations for crossover.)
Yet that simple design can take a lot of different forms. We have one-piece ball valves, three-piece ball valves, trunnion ball valves, and plenty of variation within each category.
One of our most popular ball valves is the 60 Series. It has some great internal features, like high-strength stem bearings that provide smooth actuation, eliminate galling between valve stem and body, and resist wear which extends the lifespan of the valve. It has a live-loaded seat, in which two washers are constantly adjusting in order to push the load down into the packing system. It's a great ball valve for general use.
Grace under pressure
In higher-pressure applications, however, the simplest ball valve may not be best. The pressure inthe line pushes the closed ball up against the opposite seat of the valve. While that helps the ball to seat more firmly, it also makes the valve harder to open. The larger the valve, the harder it gets.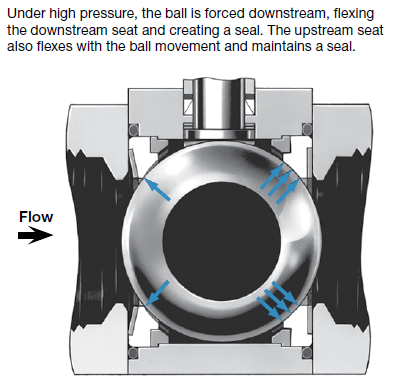 So when you need to shut off high pressure and open the line again, you might want to use a trunnion ball valve. In addition to the support at the top where the handle comes in, the ball has a couple of trunnion bearings above and below the ball. Thanks to those bearings, it takes very little effort to open and close the valve, even under higher pressure.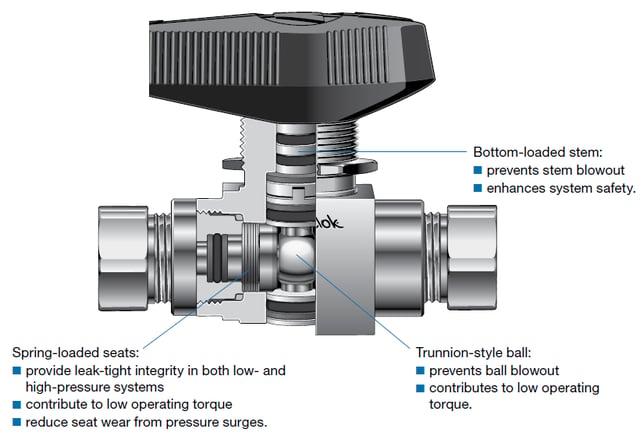 One-piece vs. three-piece
Our ball valves also come in one-piece models and three-piece models. A one-piece valve, such as our 40 Series, has only one potential leak path. But the torque needed to open and close the valve is significantly higher than the 60-series. Also, because it is machined out of a single piece of bar stock, it is expensive relative to our three-piece valves made out of forgings.

The three potential leak paths of a three-piece valve shouldn't worry you though. As our product manager Morgan Zealear says, "Since Swagelok products are backed with such a great warranty, it would be a disaster for us if we sold leaky valves."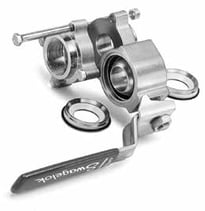 The three-piece design offers other advantages. Even when it is permanently installed, you can still remove the bolts from the flanges and rebuild the entire valve in place. You can even convert it in place, say from standard service to steam service. All you need is a new packing kit.
---
---
The fine print
With so many configurations available, it's easy to miss some of the details, especially when you are in a hurry. For instance, when you are looking for a 60 Series ball valve for high-temperature service, a quick look at the pressure-temperature chart in the catalog will show you that the Thermal Service version has the highest temperature rating. What some people miss is that it uses metal-to-metal seats. Metal simply can't seal as well as elastomer seats. It's important to look at the seat leakage rate for the valve.
If you are using the valve for, say, tar, that probably won't make a significant difference. But if you have a very low-viscosity liquid or a gas, the leakage may be noticeable. The specs will reveal everything you need to know. But don't feel like it's all on you. Talk it through with our Tech Service department. We'll help you find the right ball valve for the job, and maybe save you money, too.
---
More like this: